Osun Invites Indigenous Contractors To Bid For AfDB Borehole Projects…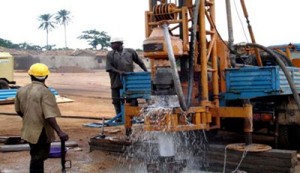 Mr Adekunle Ige, the Special Adviser to the Osun Governor on Water Resources, on Monday said qualified indigenous contractors would be given the opportunity to execute borehole projects to be co-funded by the African Development Bank (AfDB).
Ige, who disclosed this at the board meeting of the Office of  Water Resources, Rural Development and Community Affairs,  said such contractors must be ready to meet the specifications  of the AfDB.
He said indigenous contractors interested in such projects should not hesitate to submit their bids which would open on Oct. 13. As much as the government believes in the patronage of indigenous contractors, quality would not be compromised.
'' I am confident that we have contractors and professional drillers in the state who can perform to expectations. This is why we are calling on them not to sit back.
''It is the desire of Osun government to continue in its efforts at opening up rural communities through the provision of amenities that will make living meaningful for  dwellers,"  Ige  said.
Ige also said government had been up to date in the payment of counterpart funds in respect of projects that had  to do with international organisations.
The Permanent Secretary, Ministry of Water Resources, Adelere Oriolowo, who spoke on behalf of the board, said government was committed to the provision of  water in rural areas.
Oriolowo pledged the readiness of  the ministry to implementing  policies and projects  with commitment and renewed dedication.