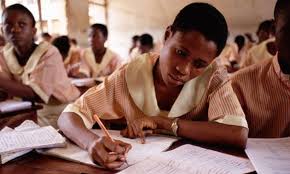 WAEC Exam: Osun Says Students' Performance Reflects Input
Osun State government on Friday said the 46.30 per cent performance of its students in the 2016 West Africa Examination Council Examinations confirms its huge investment in the education sector.
The government said that for a state that once fell to a woeful six per cent performance prior to the Rauf Aregbesola's administration to move up to 46.3 per cent aptly illustrated the fact that the government's various interventions in education were paying off.
A statement by the Bureau of Communication and Strategy in the Office of the Governor says the government is not yet satisfied or resting on its oars until the state emerges the best state in the country in external examinations.
The statement, signed by the Bureau's Director, Semiu Okanlawon, noted that the 2016 WAEC results indicate that the 2016 performance rating remained the highest and the best in 13 years.
In 2015, results of the WASCE showed that Osun ended up with 21 per cent in performance.
The details of the results from West Africa Schools Certificate Examination (WASCE) showed that Osun presented for the examination, a total of 36,678 students with 18,318 males and 18,360 females.
Out of these, 8,329 males secured credits in at least five subjects including English and Mathematics while 8,654 females candidates secured credits in English and Mathematics totaling 16,983 that got five credits with Mathematics and English.
Gradual Upward Movement
The state had registered 48,845 candidates the previous year, 2015 with 25,347 males and 23,498 female candidates.
Out of these, 5,314 male candidates got five credits and above in Mathematics and English while 5,276 female candidates secured at least five credits, including Mathematics and English, making a total of 10,590 to make the 21.68 per cent performance of 2015.
The Bureau said Osun, under Aregbesola's administration had recorded gradual upward movement from the abysmal performances due to the various interventions in the sector.
"For instance, the state has discouraged enrollment of students whose performances in internal examinations were nothing to write home about. This has compelled many of the students to change their orientations towards learning.
"Other novel interventions such as provision of stand-alone Tablet of Knowledge (Opon Imo) to all students writing WAEC each year has made learning much easier.
"With the introduction of this tablet, students now spend quality times both in and out of classroom situations.
"The result is that there is no dull moment for every student who is desirous of true education," the Bureau's statement read.
Better learning environment, the statement identified, had also contributed in no small measure to the improved results.
"So, far, Osun has completed 1,694 classrooms in the existing elementary, middle and high schools; providing accommodation for 84,700 pupils at 50 pupils per classroom.
"We have provided for them more than 100,000 desks and chairs, toilets and boreholes.
"Today, the Wole Soyinka Government High School, Ejigbo, Ataoja Government School of Science, Osogbo, Osogbo Government High School, Osogbo and Adventists Government High School Ede have been completed, with Ilesa Government High School, Iwo Government High School, Unity/Fakunle Government High School, Osogbo and others near completion," the statement added.