Aregbesola Is Toeing The Path Of Awolowo – Akinrun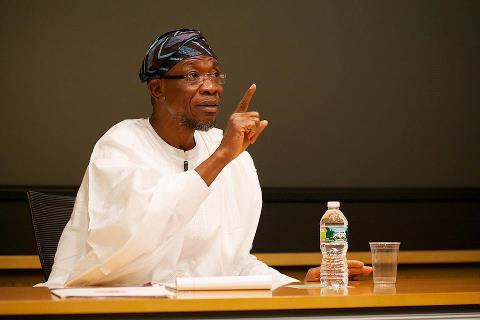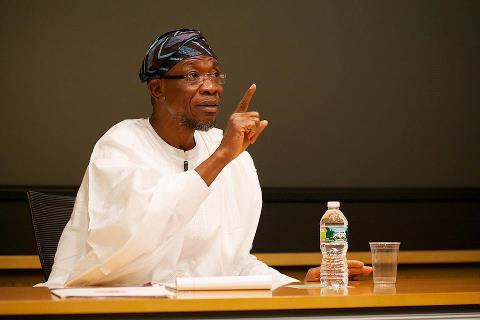 In this maiden edition of ROYAL CORNER, Osun Defender Managing Editor, Kola Olabisi, spoke with Oba Rauf Olayiwola Olawale Adedeji II, the Akinrun of Ikirun on some sundry topical issues in his palace recently. Excerpts:
OSDF: Let us know your profile sir?
AKINRUN: My name is Oba Rauf Olayiwola Olawale Adedeji II, Akinrun of Ikinrunland. I came to the throne on the 5th of July, 1990 and before ascending the throne, I was a banker.
OSDF: How will you access Ikinrun before and since becoming an Oba?
AKINRUN: By the grace of God, there has been a great transformation since I came into the saddle. This is to the blessing of Almighty Allah. A lot of progress has been made educationally, socially, economically and so on.
OSDF: Your most remarkable moment since becoming an Oba?
AKINRUN: I cannot pinpoint one. There are many. Through the help of God, we have been able to achieve a lot. Above all, there is peace, tranquility, unity, harmony and that is important because it has helped us a lot in terms of the development of the town.
OSDF: Have you ever regretted being the Akinrun?
AKINRUN: There has never been such a moment. Anybody who is born into a royal family one day hopes to be on the throne. It is an aspiration and hope. There is no regret at all.
OSDF: Was your ascension to the Akinrun stool that easy?
AKINRUN: It was not that easy because there were other competitors and in Yorubaland, any throne that does not attract competition is not a worthwhile one. Through the grace of God, I emerged the winner.
OSDF: What is your relationship with other brother Obas in the state?
AKINRUN: I have a cordial relationship and we relate very well. I see them as brothers and colleagues and my relationship with them has been that of mutuality, love and harmony. There has never been any moment of disagreement.
OSDF: Any message for your subjects?
AKINRUN: Fear God; embrace hard work; persevere in patience; develop tenacity of purpose and those in the diaspora should come home and join hands in ensuring the development of the town.
OSDF: What is your take on the recent canvass for declaration of amnesty for Boko Haram sect members?
AKINRUN: The issue of Boko Haram is a controversial one which I would not want to dabble into as such.
Those who have solicited for amnesty know what they mean and it is left to the Federal Government of Nigeria to say either yes or no. Aside this, I don't want to go into it. It is a security issue and I don't know much about it.
OSDF: Your perception of religious tolerance in the South-West part of the country, particularly State of Osun?
AKINRUN: We are known for religious tolerance in this part of the country particularly in this state. Our governor is helping the issue by giving everybody his or her own dues, whether Christian, Muslim or traditional worshipper. There is harmony. Hardly is there a family where these three religions are not in existence. That is the reason for peace in this state.
OSDF: How far have you accomplished your mission and vision since becoming Oba?
AKINRUN: My mission was to be an accomplished Oba and I feel within me that it is being achieved gradually. There is room for development and improvement and as time goes on, I think I will hope and pray for complete achievement and realization of those visions.
OSDF: What major challenges are confronting your office?
AKINRUN: The functions of a traditional ruler are multi-faceted but most importantly, peace and tranquility in his domain, conflict resolution and many more. The main hindrance is that we don't have power to enforce whatever we do. The attitude of the people. There is need for attituditional change. I have a different opinion for the calling of constitutional roles by the monarchs in that it is established already in respect of our traditions and cultures. The atmosphere in which we operate is not totally conducive. Working with a Council of Chiefs also means that I have to carry them all along in decision-making.
OSDF: Describe the Obaship institution before and now that you are an Oba?
AKINRUN: Before I became an Oba, I knew very well that such an institution was on ground but what it took was not known to me but now that I am in the system, I know what it takes; the constraints, challenges, people's perception and so on.
OSDF: What major reform will you canvass for in the Obaship institution?
AKINRUN: We should come to terms with the reality of the modern times. There should be a mixture of the ancient and modern. Our governments should evolve along the lines of our traditions and cultures.
OSDF: Holistic appraisal of Ogbeni Rauf Aregbesola's two-year in office?
AKINRUN: Ogbeni is wonderful, very wonderful. He is very hard working. I see him as an answer to the prayer of the state. Once upon a time, an oba described the state as a toddler despite its age. That time, the state recorded no progress. But now, things have changed drastically. That time, the state was like a glorified local government. Osogbo was like a glorified local government headquarters. But now, we are recording progress in all sectors like education, health, provision, of social amenities etc. I can say that life is becoming more abundant in this state through the efforts of Ogbeni who is being helped by Almighty Allah. Things have changed drastically. We are recording progress in all sectors.
OSDF: What type of person do you think Ogbeni Aregbesola is?
AKINRUN: I think he is very religious, simple and courageous. He is opposed to injustice and he has love for humanity which is motivating him to do what he is doing he is somebody who upholds justice; who loves fellow human beings. If he does not love humanity, he would not be doing it. I know he is doing it at his own expense because of the energy he puts into it; he doesn't sleep. He works 24 hours a day; seven days a week.
OSDF: Any message for him?
AKINRUN: I want him to remain focused despite the opposition. He is toeing the path of his mentor, Chief Obafemi Awolwo.
OSDF: What is the relationship between the state Council of Obas and the government?
AKINRUN: The council is dormant today. We are not holding any meetings. The relationship is cordial.