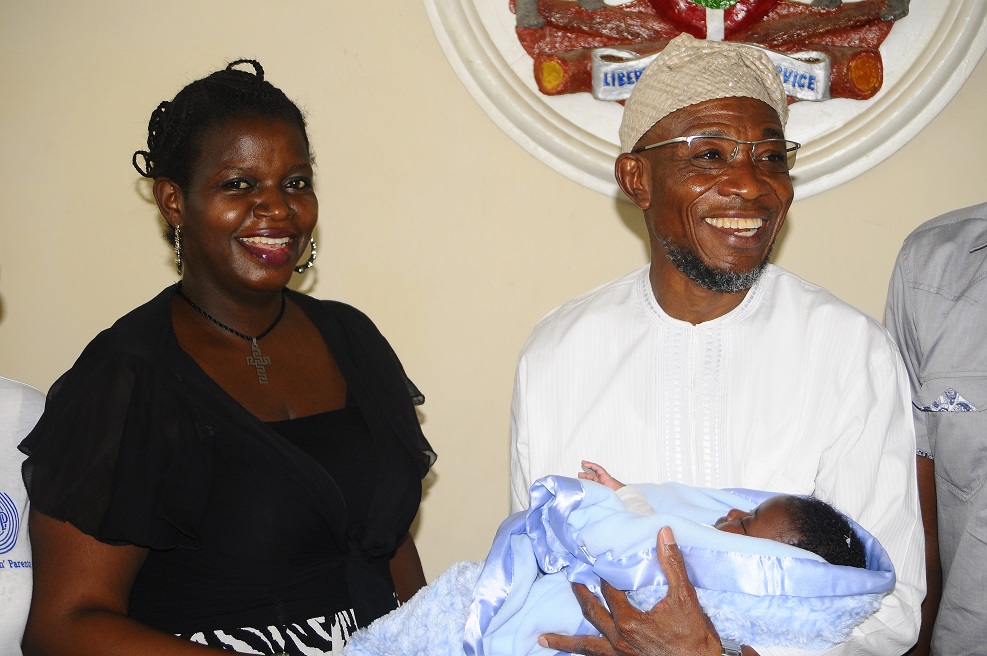 Aregbesola's Passion, Care For Women, Children And The Vulnerable

Before the inauguration of the present administration of Ogbeni Rauf Aregbesola in the State of Osun, he undoubtedly came up with a popular six-point integral action plan; banish poverty, banish hunger, banish unemployment (create work/wealth), restore healthy living, promote functional education and to enhance communal peace and progress, which the Ministry of Women and Children Affairs and other government agencies keyed into, and according to the commissioner, Mrs. Mofolake Adetoun Adegboyega, "all these centered on women, and are issues that concern women very much". This administration in its effort to forestall events and restore confidence to the people of the state in promoting functional plan and programmes to the longing and aspirations of the people in the state, brought about caring attitude of the Ogbeni's developmental plans. The Ogbeni's success story begins with the people of the state where evidences of his government are felt, and have changed their lives positively. The environment has yielded the dividend of his peculiar administration even; the atmosphere in the State of Osun is filled and charged with peace, tranquility, and security. One can say that his administration's agencies are interwoven for delivery purposes:-

Subvention To Orphanage Homes
This administration has provided platform to assist and encourage committed and selfless operators of registered orphanage homes in the state as a token from the governor of the State of Osun. Fund was approved and released as subvention by his administration. First quarterly meeting of registered orphanage home operators was held at the department for close monitoring and evaluation of practices and to uphold best practices in orphanage activities. Through the ministry, one of the registered orphanages, named Covenant Orphanage, Moro was chosen and presented different tangible gift items by Osogbo CBN staff.
School Social Work
In line with the six-point integral action plan of Governor Aregbesola, school social work is engaged as a tool to facilitate the followings:
·Enhancement of communal peace and progress
·To reduce cases of mal-adjusted behaviours among school children
·restoration of sound moral values into school pupils/students
·Social case work to foster family cohesion
·To identify peculiarities and challenges of each pupil, utilizing mechanism of school social work to intervene in a way to ensure the welfare of such pupil.
·To stem the tide of cultism amongst students/pupils of primary and secondary schools.
·To organise preventive programmes in schools through collaboration of stakeholders
·To uphold academic strength of students/pupils by encouraging academic aided culture, habits and principles.
·To unite students/pupils and their home fronts in the interest of their academic pursuits.
·To stem the scourge of vulnerability in school children
·Holding counselling retreat for the school guardians and career counsellors
·Fund was approved and released by Governor Aregbesola for activities of school social work. Social cases treated across the six (6) geo-political zones include: counselling, Interview, lectures/talks, Home visit, case conferencing, referral-peculiar cases across the zones.
Reconstruction and Renovation of Collapsed Fence and Dilapidated Building of the Children Rehabilitation Centre
Reconstruction of collapsed fence to safeguard the lives of the children and prevent encroachment into the children Rehabilitation Centre, the Ministry had been requesting for fund to reconstruct the collapsed fence since 2005. Several letters for inspection and bill of quantity were written to Ministry of Works and Transport. The fund was not released but when Mr. Governor, Ogbeni Rauf Aregbesola came on board, fund was released for the reconstruction of collapsed fence, which was handled by the Ministry of Works and Transport. The completion of the reconstruction of the fence and construction of gate house was included in the 2013 Budget Estimates
The renovation of building conforms to the State Child's Rights Law, which states that all categories of children in difficult circumstances should enjoy the following: Rights to good health and environment, right to development, right to survival and right to life.
Establishment of vocational unit in the Children Rehabilitation Centre
In conformity with four of the six-point integral action plan of the present administration, the ministry rehabilitated children in conflict with law, who have constituted nuisance to the society and threatens the peace of the land by empowering them with vocations that would make them to be self-reliant and dependent. Fund was released for the establishment of vocational centre by Aregbesola's administration. First phase of the vocational training unit had been completed, it comprises of snailry, (already stocked with snails), equipment was also purchased for tailoring and shoe-making materials.
Children End of the Year Celebration
The Oodua World Children's Day was celebrated in the State of Osun on Monday 27th May, 2013 at the State Sport Stadium Osogbo. The theme for the celebration was "Treasure Our Children". Part of the activities organized by the ministry to observe the day were essay, march past competition among the students from the state and students from invited Yoruba-speaking states in Nigeria, calisthenics was displayed by school children. The State of Osun Cultural Troupe also contributed their quota to the activities. Top traditional Yoruba Obas from far and near including Ooni of Ife, Oba Okunade Sijuwade; the Alaafin of Oyo, Oba Lamidi Adeyemi and other notable Obas from Diasporas were in attendance.
The Year 2013 End of the Year Party for the children of the State of Osun was carried out on Monday, 23rd December, 2013. The programme was jointly organized by the Ministry and Office of the Wife of the Executive Governor, State of Osun.
The party is celebrated annually purposely to bring all categories of children, irrespective of their religion, social background and ethnic group together to interact, move closer, dine and wine with Her Excellency, Mrs. Sherifat Aregbesola, wife of the Executive Governor of the State of Osun, who was the Chief Hostess and Mother of the Day.
Distribution of Nutritional and Educational Materials to Vulnerable Children

The Ministry in collaboration with Osun State Agency for the Control of AIDs (O-SACA) distributed nutritional and educational to support 400 vulnerable children, who were in dire need of assistance in public primary and public secondary schools.
The programme was held at the hall of Moremi Creche New Secretariat Complex. The objective of the distribution was to alleviate the challenges faced by these children in their schools and at home.
Assistance for individuals in need:
A seven year old rape victim was financially supported with the sum of N100,000 for surgical operation, two women diagnosed of cancer of the breast were assisted with the sum of seven hundred thousand (N700,000.00) for chemotherapy treatment O'YES Corps members, who are couple that gave birth to a set of triplet were supported with their medical bill fully settled and empowered to be able to carry on with the maintenance and sustenance of their children; A one-year old girl of destitute parents, who was diagnosed of critical mal-nutrition and dysentery was referred by the Ministry to a registered Non Governmental Organization (NGO), Ebun-Oluwa Foundation for further in-depth medical examination; A mother of triplet with chronic Tuberculosis infection was supported by this administration to get optimum medical attention, while her children received essential food supplements for a quick recovery.
An adopted child in need of support is being sponsored educationally by the Government of the State of Osun to pursue her University programme. A critically ill widow from Osogbo zone, who is a mother of three, without any source of income was empowered to start-off with a trade of her choice.
Adoption (local) Visitation

87 homes of Adopters were visited across the Federation for follow-up and updated reports on adopted children by Zonal Welfare Officers and reports gathered on adopted children revealed that there was no negative report on any of the children. Homes were fostered in love. Intervention and psycho-socio support was given to a battered young lady.