SPEECH: A Worthy Honour From The Honourable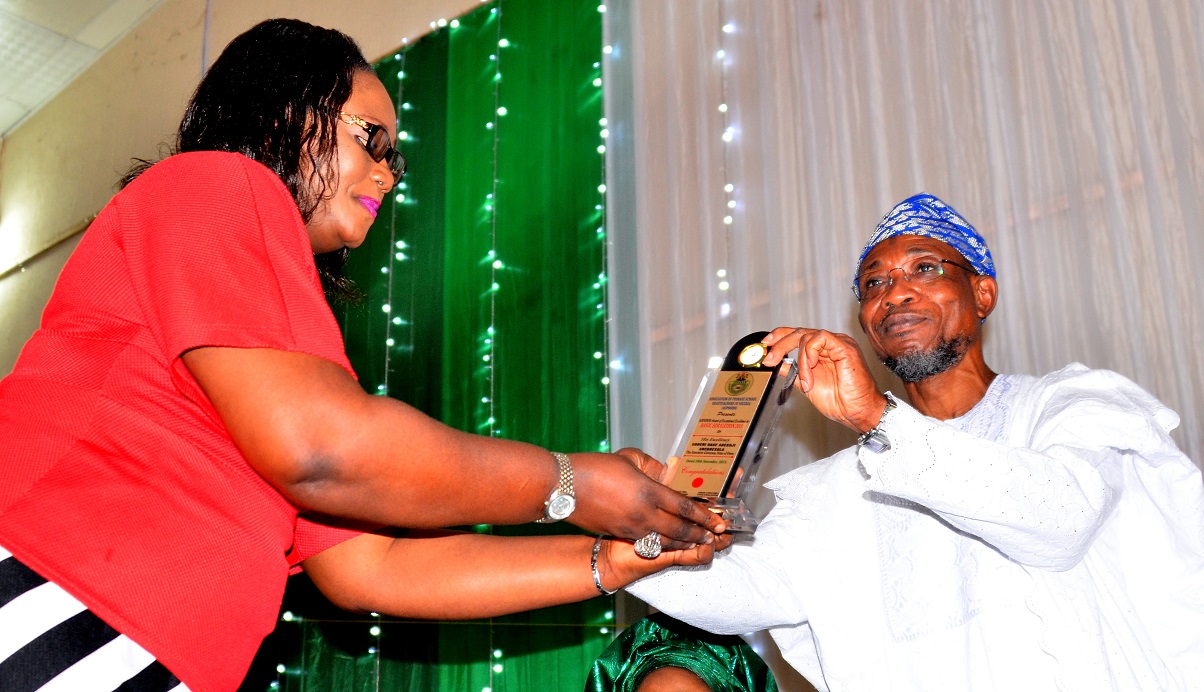 SPEECH BY THE GOVERNOR OF THE STATE OF OSUN, OGBENI RAUF AREGBESOLA, WHILE RECEIVING THE AWARD OF EXCELLENCE FROM ASSOCIATION OF PRIMARY SCHOOLS HEAD TEACHERS OF NIGERIA (AOPSHON) AT GMT HOTEL AND EVENTS CENTRE, OSOGBO ON NOVEMBER 18, 2015.
Protocols,
A Worthy Honour From The Honourable
It gives me great pleasure to be present at this occasion, the gathering of Association of Primary Schools Headteachers of Nigeria (AOPSHON). This gathering is more than just a gathering of teachers, it is a gathering of teachers' teachers and those who determine the destiny of pupils and by extension the future of our nation. It is a great honour and privilege therefore to be in your midst and to be considered worthy of your award of excellence.
I must also thank you for finding our state worthy of being the host of your convention. Osun, contrary to the adversarial media impression, is a safe haven and the best place for the meeting of serious minds. It is peaceful, safe and endowed with the beauty of nature in its grandeur. The Oluminrin Waterfall in Erin-Ijesa is iconic while the Osun Grove in Osogbo in a UNESCO World Heritage Site while the Osun Osogbo festival attracts tourists and devotees annually from all over the world. Please do explore these nature's beauty and 49 others scattered across the state after your meeting.
Education has been a major policy thrust for us since the inception of our administration and has taken a considerable amount of our resources and effort. But it is worth it. For you headteachers, your vocation is not just a job, it is a calling. If you want just a job, many of you will not be here. You are here however because of your passion and conviction of divine direction to mould the intellect and shape the character of the little ones. May God reward your efforts and perfect all that concern you. Amen.
Undoubtedly, education is also a common denominator between us; it is a passion we both share and it is my great desire that we both take it to a great level. On our part, we have given our possible best to education and will continue to do so.
As a government, it has been our dream and aspiration to turn around education in Osun. As headteachers, you are aware of the disgraceful educational legacy we inherited and the sterling efforts we have made in turning things around, with your good cooperation, sacrifices and kind assistance.
Before the present cash crunch, our administration increased the running cost on students. Against the paltry N200 paid by the last administration, we now pay N400 on pupils in Elementary Schools and N500 for those in the Higher Schools and there was timely and adequate supply of modern instructional and learning materials to all our schools. Our free school meal programme takes care of about 254,000 pupils in the Elementary Schools. We also gave out, free-of-charge, two pairs of new school uniforms to all pupils and students in our public schools. We came up with a novel idea, the e-learning tablet, Opon Imo. We have distributed about 150,000 to both teachers and students in their final year. We have commenced the distribution of this tablets to the new final year students in public schools in Osun. It is our hope that as the finances improve, we will cover every pupil in our public schools. It is our own way of introducing our students to the widening digital world of Information and Communications Technology and also make learning more meaningful.
One legacy we are building in education is an enhanced environment of learning. We have come to the realisation that the school environment largely determine the quality and character of students produced. We are therefore building state of the art 100 elementary schools. The idea behind this is that there should be an elementary public school in every neighbourhood. We are also building 50 middle and 20 high schools. Out of these, 14 elementary schools, 15 middle schools and 11 high schools have been completed. Work is ongoing on the rest and they are at different stages of completion. It is our sincere hope that we shall complete them before the end of our tenure. On Monday, we are going to present our model high school, named after a worthy Nigerian and a great educationist himself, Prof Wole Soyinka. It is a school in a class of its own, that will accommodate 3,000 pupils, with full learning infrastructure.
We are already having the results. The badly behaved pupils in dilapidated and run down schools are now well behaved when transferred to the new, beautiful schools that give them pride and enhanced personality.
Under our administration, we have a policy in place that will make teachers in elementary schools to rise to grade level 16. We have employed more than 12,000 teachers into public schools and have also appointed three tutors general, equivalent of Permanent Secretary in the three senatorial districts in the state. We have also provided more than 100,000 desks and chairs in public schools. We have also rehabilitated existing schools, provided toilets and boreholes and made schools decent places to be.
As partners in the education business, the task on our hand is how all the stakeholders – teachers, government, parents and the pupils – must join hands to improve education in Osun. I recently told the association of teachers that the time has come for us to see government as business, not business for gain, but business for service. The people must feel what we do and it must talk to them.
Teachers therefore must see themselves as agents for increasing the knowledge base of our society and for building their wards both in learning and character, from elementary school to all levels. They should therefore be assessed on how well they have performed in this task. Really, no teacher should consider himself or herself to have succeeded if his or her wards are not adjudged to have passed both in learning and character. An end must come to the practice of automatic promotion of teachers in the stark contrast of mass failure of their pupils.
Let me thank you most sincerely for your labour and sacrifice in the building of an educated society and once again, for the honour of the award.
I wish you a very successful meeting and a good time in Osun.
I thank you for your kind attention.