AREGBESOLA CHARGES RELIGIOUS LEADERS TO LIVE EXEMPLARY LIFE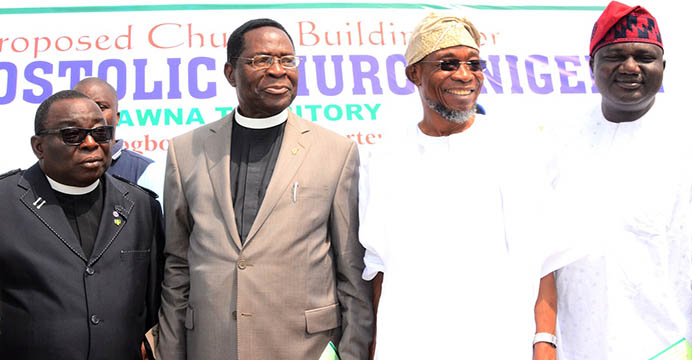 Governor of the State of Osun, Ogbeni Rauf Aregbesola has admonished members of the general public especially the religious leaders to live by example and dedicate their lives to service God and humanity.


Governor Aregbesola who described patience, love and hope as indispensable attributes of man said their is the for all to embrace peace and extend love to one another in whatever situation.
Governor Aregbesola made the statement while addressing leadership and members of the Apostolic Church in Osogbo at the occasion marking the foundation of the proposed building of the new church auditorium.
Aregbesola called on the people to remain faithful in God and develop a strong heart of total commitment and dedication to the will of God and the transformation of their societies.
He attributed the relocation of the church to its present site as blessing in disguise, adding that the moving to the new area would give the leadership and members of the church the ample opportunity to build an ultra-modern and beffiting house of worship.
Aregbesola reiterated that his administration deemed it fit to separate some buildings around Olaiya-Itaolokan road in order to have a wider dual carriage road that will facilitate smooth vehicular movement.
Governor Aregbesola also commended the church for accepting the policy of the state government and as well dedicating the incident to the will of God.
He therefore prayed God to bestow on the church the wisdom and knowledge to see through the completion of the church.
In his sermon, the National President, The Apostolic Church of Nigeria, Pastor Gabriel Olutola urged christians to give on to God whatever they have on earth.
Pastor Olutola who described earth as a transient entity said whoever wishes eternal life must give out his substance to support the work of God.
Pastor Olutola however supported his point by making biblical reference to Exodus 25, verses 1-9, said life is going to an end and there is the need for all souls to seek the face of God and contribute their wealth to His cause.
Earlier in his welcome address, the Osogbo Area Superintendent of the Apostolic Church, Pastor Paul Funsho Usman disclosed that the ongoing auditorium with a gallery if completed will house more than one thousand five hundred worshipers at a time.
He assured the members of the church that sooner than expected, the new auditorium will be completed.
It would be recalled that the former area headquarters of the church at Olaiya junction, Osogbo was proposed for separation by the Government of the State of Osun last year for the construction of new Olaiya-Ita-Olokan road.
Sequel to this, the State Government under the leadership of Governor Aregbesola compensated the leadership and members of the church with the whooping sum of N87.9million last year.