Our goal is to Develop the new man – Aregbesola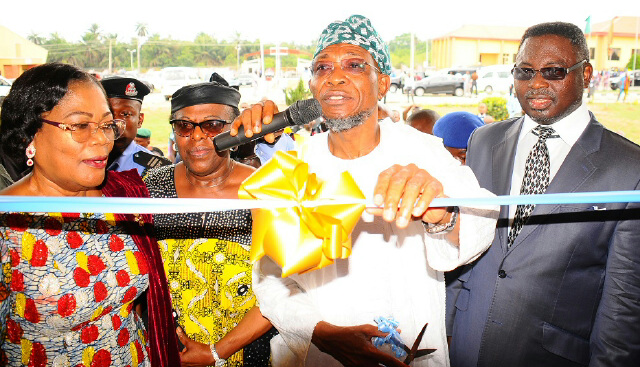 The Governor of Osun, Ogbeni Rauf Aregbesola, has reiterated his administration's commitment to continuously creating the new man that would be economically independent and financially self-reliant.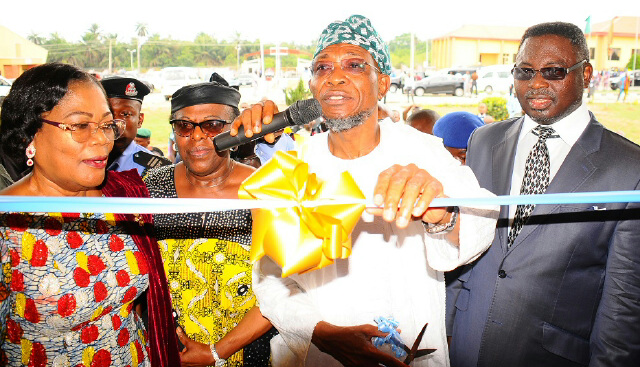 Governor Aregbesola also said the goal of his government was to develop the new man intellectually, socially and morally for advancement of the state and beyond.
Aregbesola made the statement while delivering his speech at the commissioning of the Kings university, Ode-Omu, State of Osun.
He disclosed that his administration has been informed on the need to build a non-parasitic and non-oppressive man who views his existence in light of the growth of others.
Governor Aregbesola remarked that his government has successfully developed minds and empowered youths whose views were centred on the general interest of the society and nation at lager.
Governor Aregbesola who was the special guest of honour at the occasion, charged the authorities of Nigerian Universities as well as the regulatory body, National Universities Commission, (NUC), among others on the need to invest hugely on entrepreneurial skills that can prepare graduates against future economic changes.
Aregbesola, who decried the growing rate of unemployment in the country, charged the management of all tertiary institutions in the country to focus more on producing graduates intellectually inclined with  technical, vocational and entrepreneurial skills.
Governor Aregbesola further noted that the time had come for every graduate to develop a mind set of being jobs creators and not seekers of non-existence jobs in the society.
He said the only way to set the society free out of its present economic entanglements was for every individual to rise up to the occasion and develop skills that could reflect self-economic independence, self-economic reliance as well turn one to an employer of labour, not a seeker of jobs.
He said the time has come for every Nigerian university to come up with life-sustaining educational policies and programmes that would build students on economic self-sustainability and financial independence.
"Our goal is to develop the new man intellectually, socially and morally. This new man is placed in the centre of society who views his own development as part of and for the development of society.
"This is a non-parasitic and non-oppressive man who views his existence in light of the growth of others; he views whatever he acquired to be subsumed in the overall interest of other.
"He is a man in himself and a man for society. This is the Omoluabi essence. This should be the goal of all education endeavour.
Governor Aregbesola who titled his speech, "The King is Born" said the newly commissioned University-King University was unique in many ways, not because of its deep roots in the Christian faith of its founder but rather as the first university that will be commissioned with its first matriculation ceremonies.
He said the institution was also the first university that is ready, at its permanent site, long before it is licenced by the National Universities Commission (NUC) and long before its first intake.
Governor Aregbesola who saluted the power of vision and faith of the school's proprietor, noting that a philosophical and spiritual outlook that conceives an idea and sees it done even before the first step is taken must forever be acknowledged.
According to him, "It is a manifestation of the power of faith to have taken the first step of building the university even before it got a licence.
"It is also a foretaste of what to expect from this university, a glimpse into the power of the seed capable of growing into a mighty tree, if well nurtured and pruned.
"Our belief is that the tiny seed of this university would realise its full potential and grow into a mighty oak tree, providing intellectual shelter and refuge to its immediate Osun environment, our nation, Nigeria, and the whole world at large", he stressed.
Speaking on the importance of an institution of higher learning like university to the society, Governor Aregbesola said a university is primarily meant to advance the frontiers of knowledge in a unique way.
He said university must affect the lives of those engaged positively by providing their needs in all ramifications.
"Thus, Universities provide advanced training in numerous courses that equip the students with different kinds of skills, but essentially condition their mentality such that they will be able to relate with the world in a progressively different manner.
"The significance of an institution of higher learning like a university is crucial in the life of a people. A university has all-ramifying impacts on the lives of its human environment.
"These impacts extend to diverse areas including the economy, politics, morality, enlightenment and the advancement of knowledge.
"A university primarily is meant to advance the frontiers of knowledge and it does this in a unique way so as to affect the lives of those engaged in this activity in positive and permanent ways.
"In effect, as a centre of leaning, a university engages in knowledge production, preservation, transmission and dissemination. These are subsequently applied to diverse aspects of society such as: engineering and technology, organisation, finance, medicine, agriculture, manufacturing and so on", he emphasized.
Aregbesola called on Nigerian Universities to come up with modalities that would fast track, instill and enshrine discipline, capable of shaping and molding character, saying they must also fill both character and knowledge gaps in human society.
He charged the students to not only aim to pass through the university, but also to allow the university to pass through them.
"University certificates are issued to students that have been found worthy both in learning and in character. That is, the university is supposed to fill both character and knowledge gaps in human society", he opined.
The Governor also urged the students to remain focused in whatever they do, saying the purpose of education is to make values out of every individual.
He said, "this university is supposed to make an Omoluabi out of you because university training is supposed to give the individuals a sense of vision and infuse them with mission.
"It is supposed to give the students new orientations and values that would make them more understanding, empathising, respectful, tolerant of alternative views, disciplined, focused, hardworking, dedicated, honest and striving to provide solutions to societal problems, among others to affect the larger society.
Governor Aregbesola who condemned the multiplicity in higher institutions' programmes and courses, said the purpose of university is to atleast specialize in a particular field capable of impacting tremendously in the lives of the people.
He charged the authority of the institution on the need to remain proactive in all educational aspects, adding that the essence of university is to specialize in an area of relevance that could impact meaningfully in people's lives.
According to him, "increasingly and appallingly, universities are all striving to be generalists. Whereas, each university, private ones more so, ought to carve a niche for itself – an area of relevance that reflects national or human need.
"My charge to this university therefore is to resist the temptation of being a generalist but rather concentrate on an area of need and become a specialist in it", he added.
Governor Aregbesola who bemoaned the myriads of anti-social behaviours in the most of the nation's higher institutions, said the time has come for every university to go back to drawing board and map out moral and intellectual supportive policies that would rebirth the tertiary education system in the country.
He charged the institution on the need to equip every one of its graduate with a specific life-sustaining skill, stressing that every graduate must be in a position to survive on his or her own, without necessarily looking for non-existent jobs.
"It is sadden that some of our existing universities were plagued by poor quality graduate turnout occasioned by the proliferation of murderous gangsters, prostitution, examination racketeering, sexual exploitation and harassment, incessant industrial actions and sundry other unsavoury developments", he added.
In his remarks, the Proprietor of the University who doubled as the Chancellor of the institution, Pastor Mathew Ashimolowo said the University is envisioned to raise people that will change and turn around the socioeconomic and political situation in Nigeria, Africa and the entire world.
Pastor Ashimolowo hinted that the university would ensure the provision of competent graduates capable of transforming minds and impacting greatly in the community.
Pastor Ashinmolowo who lamented over what he described as educational misconception, frowned at the way and manner at which the society is raising generations who look for jobs instead of creating jobs and serve as employers of labour.
He said the dreams of the institution was to raise leaders that would be proud of globally in terms of intellectual capacity and skills, just as it aimed at promoting entrepreneurial skills acquisition and as well changing the continents for the betterment of all.
"Having understood that the challenges of Africa is not resources, but quality of leadership, therefore our resolve is to build leaders that will transform the socio-economic and political situations not only in Nigeria or Africa but in the entire universe.
"Our vision is use the power of education to turn around our immediate community and as well raise people that will change our world through the promotion of entrepreneurial skills.
"We will take entrepreneurship seriously by prioritizing its acquisition to effect the required change.
"Our objective is to see to the raising of Africa and Africans because one cannot survive without Africa just as largest part of the world resources come from the continent.
"For this purpose, we will create enabling environment to change and transform our continent because this is the time to think beyond local but globally as we are building people of global mind set", he stressed.
Earlier, the Vice-Chancellor, Kings University, Professor Oladiran Famurewa said the University is aimed at fulfilling the dreams of knowledge seekers and higher education learners in Nigeria and beyond.
He said the Kings University was poised to offer the type of education that will ensure that its products are always a step ahead of their peers and counterparts in all ramifications.
Professor Famurewa further stated  that Kings University remains an institution of higher learning which God Himself has ordained, saying it is its obligation as a faith-based University to see that what the Lord has entrusted shall continue to grow by all strength of imagination.
He promised that the management of the institution would not for any reason whatsoever derail in its set objective to produce competent and qualified graduates that would impact the nation positively.
"Our goal is to be propelled by our core values of learning, forthrightness, moral upbringing and spiritual development and in line with our mission to be a university of note and recognized for educational excellence and academic success.
"We are all well on our way to becoming a university of world ranking that all will be proud of, as we are prepared to turn this University to a first class not only in Nigeria but globally just as our modest efforts in making a significant difference would remain unstoppable", he reiterated.
Professor Famurewa therefore assured parents and guardians of the prospective students of the university the school authority's highest level of professionalism, integrity, honesty and display of exemplary values at all times.
According to him, "anti-social behaviours and activities will have no place in this university just as the authority shall continue to maintain and run uninterrupted academic calender.
Meanwhile, the event which was three-in-one comprises of the official commissioning of the University, Investiture of the chancellor and matriculation ceremony of the university.