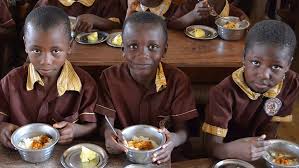 Osun School Feeding Scheme Will Boost To Food Security
The Osun State School Feeding scheme has been praised as an important strategy for food and nutrition security.
Special Adviser, Zone A Affairs, Niger State, Alhaji Aliyu Takuma, stated this during a visit  to the state   andTUNS Farms Nigeria Limited, a poultry firm.




He said the Osun Elementary School Feeding and Health Programme (O-MEALS), formerly Home Grown School Feeding Programme (HGSFP), had  brought  the much-needed change to youth/child empowerment.
According to him, the programme offers guidance on how to design and implement large-scale sustainable school feeding that meets standards.
Takuma said: "We thought that the programme is just the feeding of school children but today we have been exposed to the reality that the home-grown school feeding programme is a right step towards the change needed in youth empowerment which Osun State has been able to identify."
Takuma said if the programme was implemented across the country, it would transform the poultry industry and enable it to achieve its potential as a major source of revenue and employment creator.
The Assistant General Manager, Admin, Research and Development, Mr. Taofeek Badmus, expressed gratitude to  Governor Rauf Aregbesola, for implementing the programme,  calling  on other governors to adopt it to enhance  their pupils' nutrition  and  cognitive skills  while improving their academic performance.
He reiterated the determination of TUNS Farm to make the programme a success and to assist other states interested in starting similar programmes.
The Programme Officer, School Feeding Programme, Mrs. Ayoola Olubunmi, described the relationship with TUNS Farms as pleasant. She lauded the impact of the programme on the state, which include pupils'enrolment, job creation and women empowerment.
"The programme, O-MEALS, was conceived with the major aim of feeding school children; however, it has helped increase school enrolment by a minimum of 25 per cent  since its commencement while also creating new jobs for the teeming youths in the state and boosting the local economy," she said.