FEATURE: Stand up and be counted…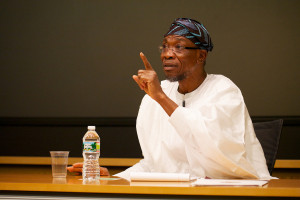 It is an unarguable fact that governance is all about service delivery to the masses whose thrust serves as the horse upon which those at the helm of affairs ride. The imperative nature of governance further plays out in a democratic system where emphasis is laid on "governance of the people, by the people and for the people"; this implies that for governance devoid of corruptibility to thrive, the masses who are determinants of who rule them must have a proper knowledge of their representatives and what is expected of them. Do you know who represents your constituency? Do you know what they do? Do you have any ideas for them? Is there something you prefer they rather focus on in your community? Then this is a piece you need to read to the very end because we know how to get you to them.
When the need for a new website came to us, we knew one thing: it had to be different from the pack; it had to make an impact. There was a need to solve a problem, to bridge a gap and to improve on anything that was on ground; and in achieving this, the feature through which everyone could reach out to their individual constituency representative became A-MUST-INCLUDE; and we are glad and proud that we DID IT!
Many times we have the right idea and need to know who can implement them and also make them really happen; this tool avails you that immediate opportunity. There is usually a need to applaud an initiative we just saw in our little community corner because we are so impressed by the speed of work and we want the Local Government representatives to know this and encourage them to do more, this tool has also made this very possible for everyone. The need to be carried along on the happenings in the State of Osun or in a Local Government Area of interest has birthed the call for accountability; and to this we present to you, the men and women who are accountable for our votes and ask you to reach  them, to know them and to applaud them.
Ogbeni Rauf Aregbesola, the Executive Governor of the State of Osun has always been a forerunner and a great advocate for Good Governance and Accountability and this is totally applaudable. Another first by any website in Nigeria will continue to bring the Government of the State of Osun closer and closer to the people who put us there.
Visit the website today – www.osun.gov.ng and KNOW YOUR REPRESENTATIVES. It is time to STAND UP AND BE COUNTED for offering a hand and being part of the great future we are building today for the State of Osun. Reach out to know more and to let your opinion be known. This feature is found on the Homepage of the website and each representative is just an email or phone call away from you. Use the tool with every form of maturity and relevance. You eing a part of our initiatives means a lot to us.
Thank you.