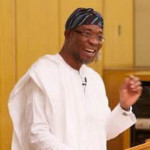 Aregbesola, Juwah Harp On ICT Access For Economic Growth
Osun raises IGR generation to N600m via technology in a year 
For Nigeria to realise the vision of becoming a major economic bloc, the duo of Osun State Governor, Ogbeni Rauf Aregbesola and Executive Vice Chairman of the Nigerian Communications Commission (NCC), Dr. Eugene Juwah, have said that Information and Communications Technology (ICT) if adequately explored could aid the country in its pursuit.
Specifically, Aregbesola said that ICT had potential to open up huge possibilities for development. The Governor of the State of Osun, who spoke as a guest speaker at this year's Nigerian Telecom Development Lecture (NITDEL) at the weekend in Lagos, said that ICT was the inexorable future of the world, adding that it was only sensible, "we recognise this fact and begin to make the best use of the opportunities for development that ICT can afford us."
Aregbesola, who said that ICT had helped the state to increase its Internally Generated Revenue from N300 million to N600 million yearly, an 100 per cent increase, noted that the world was already being extensively driven by ICT: "Right from simple domestic appliances to much more complex mechanical devices, and physical structures. Very familiar items of creature comforts like telephone handsets, cameras, refrigerators, television sets, ovens, and gas cookers among others (from their manufacture to their use) have become heavily digitalised and reflect the varied and intensifying applications of ICT. In the wide-ranging areas of human life, in medicine, construction, agriculture, drugs production and other processes of industrial manufacturing, ICT has become the central driving force," he added.
The Governor said that Nigeria could not be allowed to be left behind, saying the world was truly a global village in terms of information flows, which had been aided through the World Wide Web and international satellite media. According to him, ICT could assist greatly in all major parts of the economy; including education, security, politics, health care, and agriculture among others.
Aregbesola informed that, as at March, the sector's contribution to the country's GDP was 8.53 per cent.

For Juwah, the impact of ICT to societal development had always been a subject of interest, not only to the economists but also to governments, regulators, development analyst, financial experts and many other segments of the society.
According to the NCC EVC, who was represented by the Director of Public Affairs, Dr. Tony Ojobo, it had been widely established that the economic development of a nation could be accelerated by improvements in the country's ICT infrastructure. He noted that the explosion in technology, which ushered in the information age had become the basis for defining power in the modern world.
"No modern economy can thrive without an integral information technology and telecommunications infrastructure. This is because ICTs provide the veritable platform for development across the economic and other sectors if well harnessed.
"ICTs are in fact enablers of broad based social and economic development. ICTs not only contribute to the development of education, health and governance, but are also key enablers of sustainable human development in a more general sense," Juwah stated.
The NCC EVC observed that governance and the delivery of public services could be performed more efficiently through the use of ICT, which included mobile/fixed telephony, Internet, broadband and wide area networks.
Juwah said that ICT opened the door of e-commerce, e-education, e-health and e-government, stressing that this was why a number of government agencies at both the federal and state levels were deploying ICT facilities to improve service delivery, sharing of information and reduce delay.
THE GUARDIAN