EDUCATION: Dietitians Commend Aregbesola On Free Meals For Students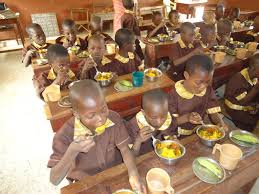 Association of Dietitians in Nigeria (ADN) have commended the Governor of the State of Osun, Ogbeni Rauf Aregbesola, for providing free meals to the Students of Primary Schools in the State of Osun.
Mr. Tajudeen Olutope Ahmed on behalf of the Professional Nutritionists and Dietitians in Nigeria disclosed this in a signed statement.
 The Association considered the state of Osun's policy on providing free meal to pupils and students of primary schools as a most welcome development highlighting how this policy will contribute immensely to the nutritional status of the pupils and consequently increase their intelligence quotient.
 In the statement, the Association pledged to collaborate with the administration in the implementation and sustainability of the O'meal Scheme thereby urging the Governor ensure the necessary structures are in place for continuity of the free school meal programme.