OPON IMO Takes Centre Stage As The World Summit Award Holds In Colombo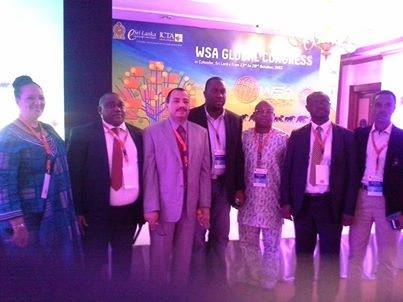 It is yet another giant stride and a great honour bestowed on Ogbeni Rauf Aregbesola, the Governor of the state of Osun by the world summit award (WSA)
The World Summit Award (WSA) is a global initiative for selecting and promoting the world's best electronic media and applications. Comprising of eminent national experts from more than 100 UN member-states,
WSA nominated 461 national nominees to compete against each other to win the World Summit Award 2013 out of which 5 outstanding nominees of various WSA categories emerged from Nigeria namely with Opon Imo in the e-Learning & Science Category.
The Award Ceremony and Gala Dinner which will hold at Mount Lavinia Beach on the 26th of October will be the highlight of the WSA Global Congress wherethe 40 WSA and 18 WSYA winners will be celebrated for their excellence in a unique ceremony and winners from all over the world will receive their awards, handed to them by high-level international dignitariess.
Based on his achievement and style in facilitating a revolution in education and the agriculture sub-sector of the economy, Ogbeni Rauf Aregbesola has been picked to be one of the guest speakers at this international event.
Constantly improving on the educational facilities needed by the students of the State, the idea and exceptional execution of Opon Imo (e-tablet) has earned the State this outstanding recognition.  Amidst recent distractions and citicisims, the fact remains that Ogbeni has made us proud yet again and we celebrate him.
Congratulations to the Governor for this award and  honour brought to the state of Osun through this creative project that cuts across every strata of his governance. We truly believe that there are more to come considering other ongoing projects in the State at the moment.
Long live Ogbeni , Long Live the state of Osun and Nigeria.