Osun Parents, Teachers Rally In Support Of Osun's Education Reforms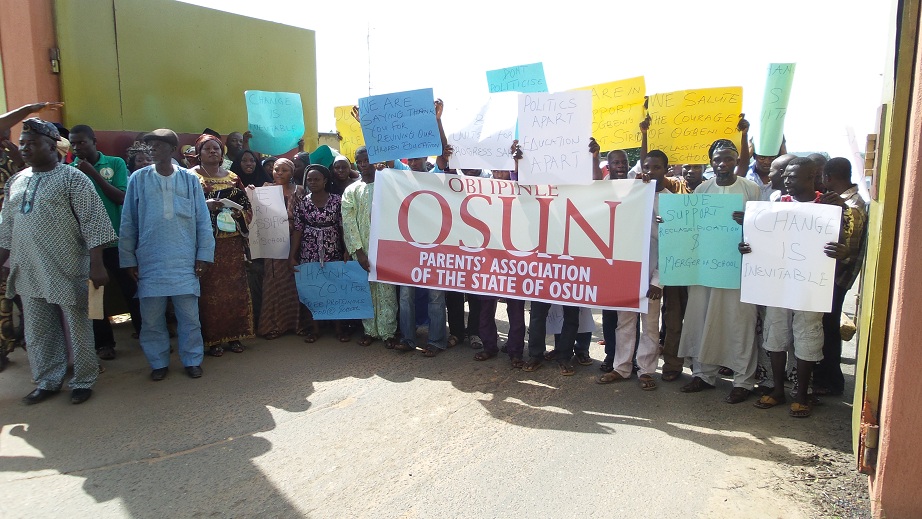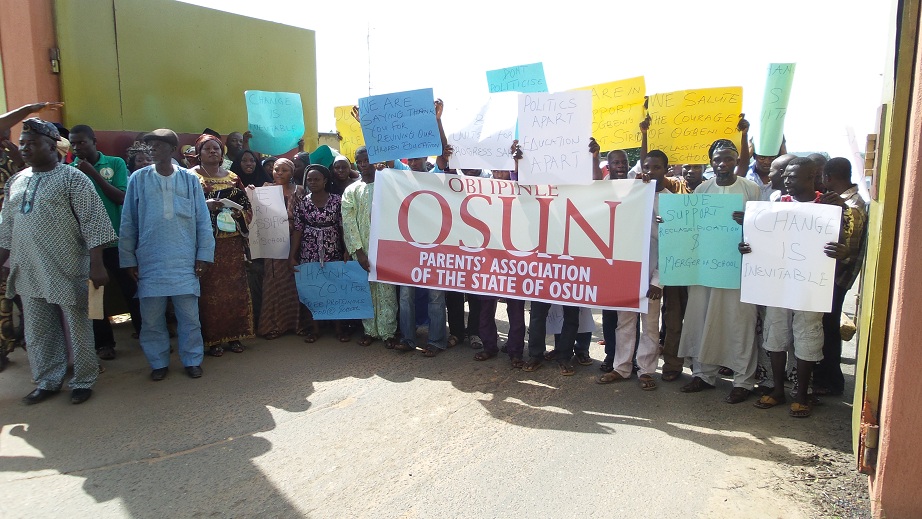 Members of Parents and Guardians Association of Osun in their hundreds thronged the State Secretariat in Osogbo on Tuesday in a rally to commend the administration of Governor Rauf Aregbesola on his achievements in education. The placards carrying parents urged government not to relent on its massive education reconstruction work in the state as parents and their children are happy and satisfied with goings on in the educational sector.
The Association led by Dr. Ademola Ekundayo told the Deputy Governor, Mrs. Titilayo Laoye- Tomori, that the association decided after it was left with no option than to take to the streets for politicians to know that it is not right for them to play politics with the life of the children. Several placards with various inscriptions like: "politics apart, education apart" " we are saying thank you for reviving our children's education" "we support re-classification and merger of schools" " change is inevitable, don't politicise the future of our children" among others were displayed during the rally.
According to the President of the Association,"we want to first and foremost apologise for obstructing the free flow of vehicular movement around the secretariat. After observing what has been going round since the commencement of the re-classification of schools, we decided to stage a rally to show appreciation for what Aregbesola is doing in schools.
"Our association is coming out in the open to tell politicians in the state not to play politics with the education of our children as we have not had it this good until Aregbesola came on board. We will like to use this opportunity to tell government not to relent in its efforts at giving the best to the children. We know what it used to be in the past, we can now see the difference. Parents have been to these schools and we are very happy with the situation. Our children are now being taught in classrooms with ceiling fans, we don't have to buy tables and chairs again, our children in elementary schools are now feeding free of charge and every classroom now have teachers. We are grateful to Aregbesola." Dr. Ekundayo noted.
He urged government not to be distracted by people who he tagged as enemies of progress saying majority of this people who are againt the re-classification process do not have their children in public schools.
"Many of these people making noise about the merger do not have children in these schools. Most of them have children in private schools. I am sure none of them has ever visited any of these schools, because if they have done, their conscience will tell them that what they are doing is not right. What is the population of these people? This will go a long way to show that they are not interested in the children because their own children are not there but they are only interested in self." The Association chairman revealed.
The Deputy Governor who addressed the parents for their orderly conduct during their rally to the governors office said, "I was at a function when I was called that some people are blocking the entrance to the secretariat, I was afraid that what would have warranted it, but I am happy when I got here and found that it was you parents and that you have come to tell us we are doing good." She told the parents.
She disclosed that government is feeding over 300, 000 children daily with nourished foods, which is helping their physical and mental development. The deputy governor expressed profound appreciation to the parents for their understanding and support of the reforms. She also commended the teachers in the state for their valuable contributions to Opon Imo (Tablet of Knowledge). She reminded the parents that today in Osun, pupils eat over 300,000 eggs every week, 35 heads of cattle every week, they eat 15,000 whole chicken every week, they eat 400,000 tones of fish every week and are given fruits everyday.
She said the hopeless state met whereby only 3 per cent of products of our high schools were matriculable has been reversed with changed with over 60 percent crossing the bar. She also reminded that the state was number  32nd on the national examination scale but now 8th n the ladder because of the intervention programmes.