Osun Successfully Completes N11.4 Billion Sukuk Bond, Aregbesola Commended For Exploring New Development Options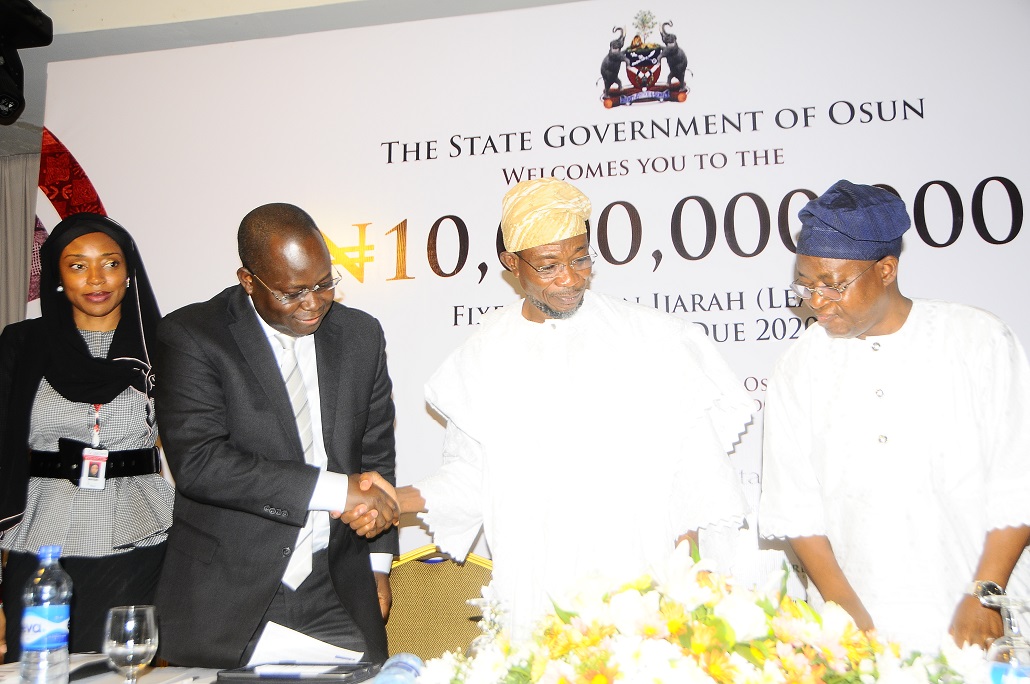 This landmark achievement was wrapped up in Osogbo, the state capital yesterday. According to the issuing houses, the sukuk was said to by the first Islamic bond in sub-Saharan African.
In attendance during the document signing ceremony was the Governor of the state, Ogbeni Rauf Aregbesola; the Deputy Governor of Ogun State, Mr. Segun Adesegun and the entire state cabinet.
The sukuk bond was issued in accordance with enactment of the Osun State Bonds, Notes and Other Securities Law 2012 and setting up the Osun Sukuk Company Plc. Though Islamic in nomenclature, the sukuk bond was a conventional bond and coordinated by the regular investors in the nation's capital and money market
The bond was issued in accordance with the Security and Exchange Commission's rules and regulations. The N14. 4 billion sukuk (14. 75 percent) fixed return tranche 2 has 42 investors with Lotus Capital Limited as the leading issuing house and Augusto and co, one of Nigeria's leading rating agencies, as the rating agent.
The bond, which would be used to finance roads and school constructions across the state, is due in 2020. While authorising and approving the offer at the board meeting for the Sukuk Company, Aregbesola said his government took the sukuk bond as an opportunity for the development of the state.
Aregbesola appealed to the people to see the bond as an avenue to attract development to the state for the benefit of all and sundry.
"The Sukuk bond is a veritable avenue for us to access capital to develop our state.
We want our people to also see this opportunity that opens to us as such.
"In name the bond is Islamic but it has the conventional bonds' characteristics and is coordinated by the regular capital and money market investors.
"Out of the 42 investors, only one of them (Jaiz Bank) is Islamic and the name sukuk is just a nomenclature. The investors are regular Nigerians," the governor said.
The Commissioner for Finance, Budget and Economic Planning, Dr. Wale Bolounduro, described the sukuk as a unique product.
Bolounduro said this bond makes it possible for the first time in Nigeria for a government to open itself up to the capital market in transparent manner.
He said the landmark achievement has offered government of the state opportunity to optimise capital for business purposes.
The chairperson of Lotus Capital, Hajara Adeola said the bond was successful and over-subscribed.
She said the sukuk's success represents a clear vote of confidence in Governor Aregbesola's administration, the State of Osun and its people.
Adeola said the governor had become unique for his penchant for exploring novel ways of doing things adding that the sukuk represented  another instance of Aregbesola exploring new ways of seeking for the development of the state.