Fireworks, Colours, Prayers, Funfare In Osun As It Marks The Islamic New Year In Grand Style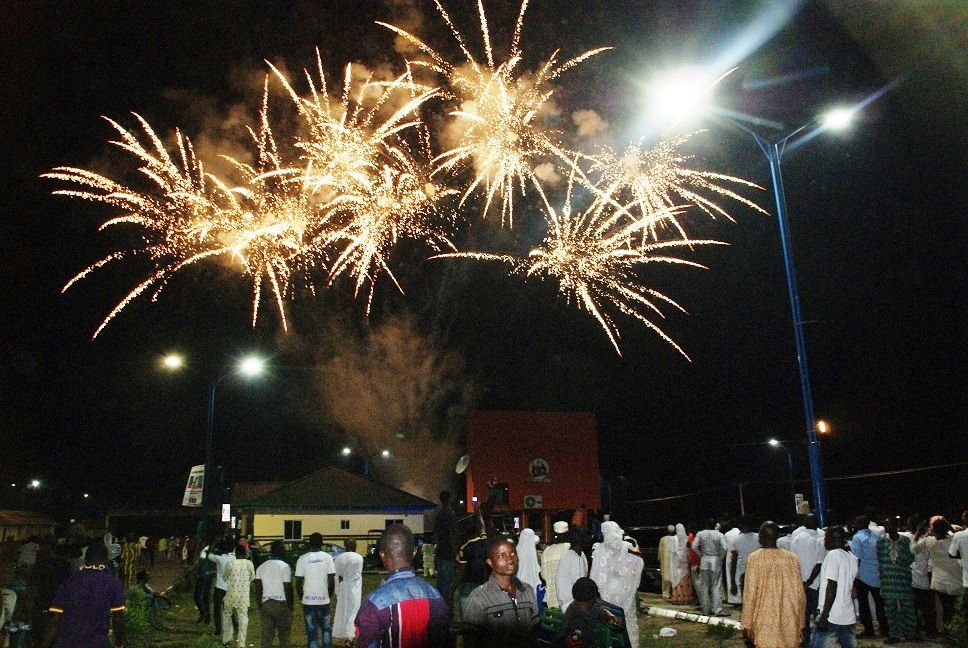 It was with grand style that the people of Osun welcomed the Islamic New Year (Hijrah 1435) as Governor Rauf Aregbesola led a huge crowd of Muslim faithfuls at a colourful display of fireworks to usher in the New Year Midnight Sunday.
The atmosphere was electrifying and carnival like at the Freedom Park, Osogbo as muslim faithfuls, both old and young, men and women, members of the executive council including the Deputy Governor, Otunba Grace Titi Laoye Tomori thronged the park to offer prayers to Allah and thank Him for witnessing another end of the Islamic year.
Governor Aregbesola, who joined the Chief Imam of Osogbo and President, League of Imams and Alfas in South West, Edo and Delta, Alhaji Mustapha Ajisafe, to lead others at a prayer session at the Praying Ground, Osogbo on Monday admonished Islamic adherents in the State to bring to bear moral and spiritual rebirth as the hallmark of lessons of the migration of Prophet Muhammed from Mecca to Medina which is called Hijrah 1,435 years ago.
The governor and other Muslim leaders later proceeded to the Osogbo Township Stadium where the carnival continued amidst songs, lectures and prayers for the state. Governor Aregbesola specifically challenged market men and women, artisans, public servants, professional bodies as well as religious leaders to let uprightness be their watchword in all their dealings with fellow human beings.
He said the Hijrah of Prophet Muhammad is now different as what is required of them today is spiritual migration which entails cleaning and purging of souls of anti-social vices.
"As we commence the Islamic calendar, Hijrah 1435AH, we must imbibe a covenant of peace, tranquility, transparency, honesty and good neighborliness. Let us ask ourselves or humanity that if Prophet Muhammad comes today, are we worthy of being his followers? What Hijrah connotes for us it that we shun all vice and put on the garb of good deeds," Aregbesola said.
"We therefore, have a duty to live by the dictate of Islam and follow the path of modesty, virtue and righteousness. We have no excuse to do otherwise for Allah has stipulated in the Quran in numerous accounts how best we can live as true believers." Quoting Qur'an chapter 7 verse 56, Governor Aregbesola lamented that if Islam promotes peace and good neighbourliness, where then do some misguided elements in the name of Islam thrive in promoting cantankerous vices.
"A tiny minority has emerged in Islam, who by their actions, has profaned Allah and portrays Islam as a religion of violence. They are at war with everybody and make no discrimination between Muslims and adherents of other religions.
"Muslims, Christians, men, women, children, aged, young and just anybody within their range is considered a  fair game and they always leave on their trail blood, sorrow and tears," Governor Aregbesola lamented. According to Governor Aregbesola, the declaration of public holiday in the state heralding Hijrah 1435 AH is aimed at promoting justice and fairness among religious groups.
In his sermon, the President League of Imams and Alias, South West, Edo and Delta States, Sheikh Mustapha Olayiwola Ajisafe, said among other lessons, respect and prayers for leaders , following the path of holiness and godliness remains qualities a good Muslims must imbibe and promote at all times.
Sheikh Ajisafe described killings, maiming, violence, intolerance , promoting discord as behaviours Allah condemns among his creations. The cleric identified peace, security, health, education and youth empowerment as critical on the agenda of a government that truly wants to serve the people. He commended the giant stride of the Aregbesola administration and lauded his government for using development to redefine governance.
In his speech Chairman of the Hijrah 1435 AH celebrations, Alhaji Isaka Nofiu Alani, appealed to all stakeholders in the state to show more understanding and allow the ongoing education reorganisation, restructuring and reclassification to sail through as it is going to raise the standard of education in the state.
"I appeal to all citizens of the state, home and abroad, to show more understanding and allow the ongoing educational reorganisation, restructuring and reclassification to sail through as it is going to raise the standard of education in the state by ensuring adequate provision of educational infrastructural facilities as well as manpower to the effect that our children will have better understanding of their studies," Alani said.
Also speaking on the significance of the day, Commissioner for Regional Integration and Special Duties, Mr. Bashiru Ajibola said that as the state of Osun is promoting tolerance and equality among all the religions people must take religion as something that should promote and not to hide under religion to cause crisis and chaos in the society.