INTERVIEW: Why We Embarked On Reforms In The Education Sector – Bolorunduro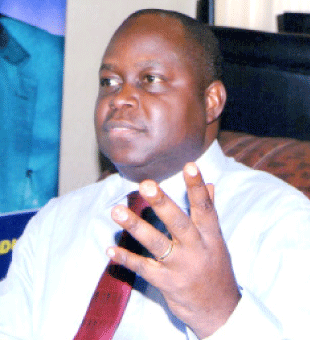 Dr Wale Bolorunduro is the Osun State Commissioner for Finance, in this encounter with newsmen,he speaks on the plans of the state to sell Islamic bonds to residents, economic implication of schools merger and re-classification among other sundry issues. 
The introduction of Sukuk bond has been controversial because it was not known to many people; can you explain what the bond is all about?
Sukuk is a financing option like a bond; it is a means of raising long term funds under fixed returns, in which interest is not allowed. Rather it allows investors to participate with the sponsor in raising funds. Apart from the name, it is not different from the conventional bond. Sukuk has a structure which allows government to give part of its assets to the special purpose vehicle required to raise funds. The special purpose vehicle is a public company with article and memorandum of association.
Also, because the object of the company is known, investors are sure that their money will not be diverted to something else. This makes government to be more transparent and enable sponsors to achieve cheaper rate. Osun under Ogbeni Rauf Aregbesola was able to get N11.4 billion at the return of 14.75 per cent, at the time the rate at the money market was at 25 per cent and even interbank rate, which is the rate at which banks lend money to one another was about 25 per cent, 30 per cent and even went up to 40 per cent for some days at that period and we were able to attract investors at 14.7 per cent return.
It was that structure that enables us to attract that investment at that fixed rate, so if interest rate goes up to 30 or 40% in the future, we are not affected. But I want to make it clear that apart from Sukuk which is the name or nomenclature, we are not under any religious jurisprudence or covenant but the structure open spaces for additional investors who will not want their funds go to into vanity objectives. Majority of the investors and asset managers companies that invested are headed by Christians.
The bond is regulated only by capital market authorities, which are Securities Exchange Commission (SEC) and Nigeria Stock Exchange. If by tomorrow we find a Christianity financing nomenclature whose structure will allow us to raise cheaper funds within our borrowing limit, we will take it. For us, we know what we want to achieve, we know the kind of structure that suit us. We know our needs, we want to be transparent and that is what we are doing with the bond.
Not quite long that the state raised N30 bilion bond from capital market and now N10 billion Sukuk, tell us what you intend doing with these funds or what you have done with them?
Let me tell you, when the Governor took over mantle of leadership, he came up with programme codified as six integral action plans. The plan is meant to banish hunger, reduce unemployment, banish poverty, to promote healthy living, to restore peace and harmony and to fix education sector. We came up with medium term expenditure framework. All the capital expenditure and critical/mandatory expenditure over the next seven years had to be considered.
The next to be considered was the fiscal strategy; we looked at revenue and expenditures of government over seven-year period. The central point is the Internally Generated Revenue (IGR) and we had to benchmark the IGR penetration ratio. Osun under the previous PDP administration was below national average and south west zonal average.
The strategy of Ogbeni Rauf Aregbesola was to move quickly above national average, so it was moved from N300 million monthly to N600 million within the first year without introducing new taxes and at that level it was above national average and close to regional average. Then, it was taken to N1 billion and now it is over N1 billion. The objective of the fiscal strategy is to optimise resources and maximise revenue. This means Osun will be re-engineering its revenue, which is what the state has been doing and it includes automation of revenue, etc.
The state is now focusing on tax audit and that is to recoup taxes owed years back. Also, Ogbeni Aregbesola administration has blocked leakages in areas of salary payment expenses, pension and gratuities. His reform programmes has attracted World Bank, who is helping the state under state and local government governance reform and I believe this will lead to supports in the near future. Now, the funds realised from Sukuk will be used to build specifically state of the art schools with bigger classroom capacities and state of the art infrastructures, laboratories, etc.
The state under Governor Rauf Aregbesola plans to spend N36 billion over the medium term to develop the education sector, N5 billion has already been committed by government while the N11.4 billion realised through Sukuk will also be used for the same purpose which means the state has N16 billion presently. We are building 100 elementary schools, 50 middle schools and 20 high schools in different locations over the next two to three years.
The state chapter of Christian Association of Nigeria (CAN) had kicked against the education reform and alleged that the governor wants to Islamise the state, what is your reaction to this?
Governor Aregbesola has no plan to Islamise the state. All what he is doing is to uplift the quality of education in the state, which before now was near total collapse especially with poor performances of students in both internal and external examinations. The present reform is the outcome of the education summit of February 2011 under the Chairmanship of Professor Wole Soyinka. In the past, classrooms were crowded, funding of education was poor, there was lack of instructional materials and high school fees in tertiary institutions and these are all what the reform is trying to correct.
The schools are divided into elementary level which comprise pupils from ages 6 to 9 which correspond to primary one to four, the middle level from primary 5 to JSS 3 of ages 10 to 14 classified as grades 5-9 and the high school level age range will be 15 and 17 years corresponding to senior secondary school to be known as grades 10-12 and this has not contradicted the universal basic education, which stipulates nine years under basic education.
So, in realigning the high schools, it is a situation whereby rather than having 200 students in one school and having 300 in another school, the state will put them in the bigger school that has much bigger space. The population of the students in public schools in the State follows UNESCO standard. Government will provide school buses where there are needs for them. In reclassifying the schools, the ministry of education was mindful of religious differences and avoided classifying Muslim public schools with Christian public schools despite the fact that they are both funded with public funds.
There is no need for Christian Association of Nigeria (CAN) to raise alarm. The peculiarity of the state now according to demographic distribution released by National Population Commission (NPC) shows that between the ages of 0 and 17 years, Osun has more boys than girls, so having single sex schools limits capacity and it is constrained by demographic reality.
What is the economic implication of the merger and reclassification of public schools?
The essence of the re-classification and merger is to optimise resources and take advantage of economy of scale rather than having two schools within the same block; you can have them together and consolidate your resources.
These are some of the things the new education reform addressed especially the needs and fiscal strategy, rather than spend N2 million in one place and another N2 million in another within the same block as running cost. N3 million can be spent in one place and achieve quality purpose in one location within the same sphere. The elementary school remains a school within neighborhood.