NGF RETREAT: Sultan Of Sokoto Lauds Aregbesola's Achievements, Expresses Nostalgia On His Visits To Osun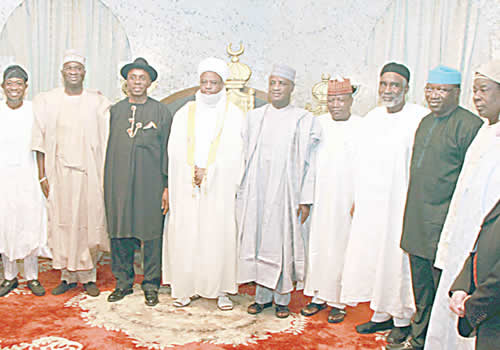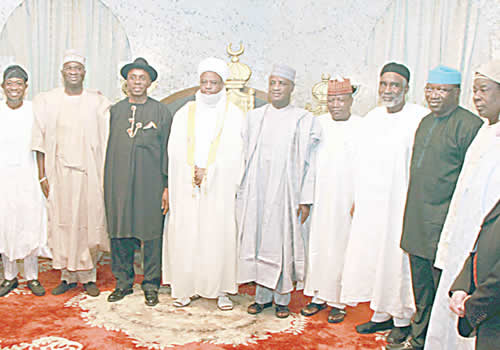 The Sultan of Sokoto, His Eminence Muhammad Sa'ad Abubakar III, has commended the administration of the Governor of the State of Osun, Ogbeni Rauf Aregbesola, saying the governor's performance has been a sterling one.
The Sultan made the commendation when members of the Nigerian Governors' Forum under the chairmanship of Rivers State Governor, Rotimi Amaechi, paid him a courtesy visit in his palace.
The governors were in Sokoto State for the second Nigeria Governors' Forum two- day retreat. The monarch stated that Aregbesola has been performing wonderfully in the past three years. According to him, the governor cannot but continue the stride with which he is working so as for the state to be self-sustaining.
The Sultan, who said he has visited Osun four times and was elated with what he saw on ground, expressed willingness to visit the state again.
"My brother, Rauf Aregbesola is here with all of you. I was in Osogbo, his state capital sometimes this year. I think I have visited his state four times and I am still willing to visit again. There is no doubt that he is doing wonderfully well. I want you to continue the way you are doing. The Almighty Allah will be with you," the Sultan said.
The monarch, who presented the NGF chairman a book written by the late Sultan Muhammad Bello, said the books are good resource materials for both Muslims and Christians, who wish to know what Islam said on fundamental issues such as war and peace.
He affirmed that Islam is totally opposed to shedding innocent bloods of fellow human beings, saying in Islam, killing of one innocent soul is tantamount to killing a whole generation.
"Sokoto is the centre of Islam even though I know that Islam had reached some other places between 500 to 600 years ago.
He said: "Today, I am surprised at the way some people are behaving. Islam is the opposite of violence. I don't know where those who kill and shed blood of innocent people got their own ideology because Islam is averse to killing fellow human beings. In fact, in Islam it amounts to killing a whole nation if one kills just one person."
He admonished leaders at various strata of government to serve their people with full capacity when they are in power, saying power is transient and leaders would not be there forever.
He continued: "When you are here as leaders, be it a President, Governor or chairman of a local government, please do your best for the people you govern. We will not be in this leadership position forever; we will not be in this world forever."
Also in attendance were the Speaker, House of Representatives, Aminu Tambuwal, Nobel Laureate, Prof Wole Soyinka, and former presidential candidate of the ACN, Nuhu Ribadu and others.