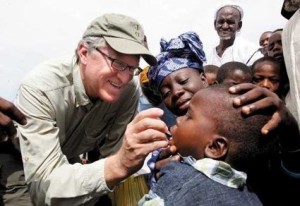 HEALTH: Osun Immunises 777,779 Children Against Measles
The Government of the State of Osun said on Monday that it had immunised 777,779 children in the just concluded Integrated Measles Campaign.
The exercise was conducted between Nov. 2 and Nov, 6 in the state.In a report released in Osogbo by the Commissioner for Health, Dr Temitope Ilori, the state government said the figure represented 107.2 percent coverage.
The report indicated that the government had targeted about 725,573 children below the age of five. "It was a huge success as the exercise was well received by the people across the state.
"Apart from measles vaccine, the children were immunised against polio; vitamin A was also administered," the report said.
According to the report, the campaign covers 111.6 per cent in the case of vitamin A supplements as 738,063 children have been covered.
The report attributed the success of the exercise to the commitment of the state government and the readiness of parents to raise healthy children.
"We are also appreciative of the huge support received from the World Health Organisation (WHO) and UNICEF.
"The well being of the children is an investment in the future that should not be toyed with by any government,'' it stressed.
NAN