Osun Holds Christmas Carol Cantata In Style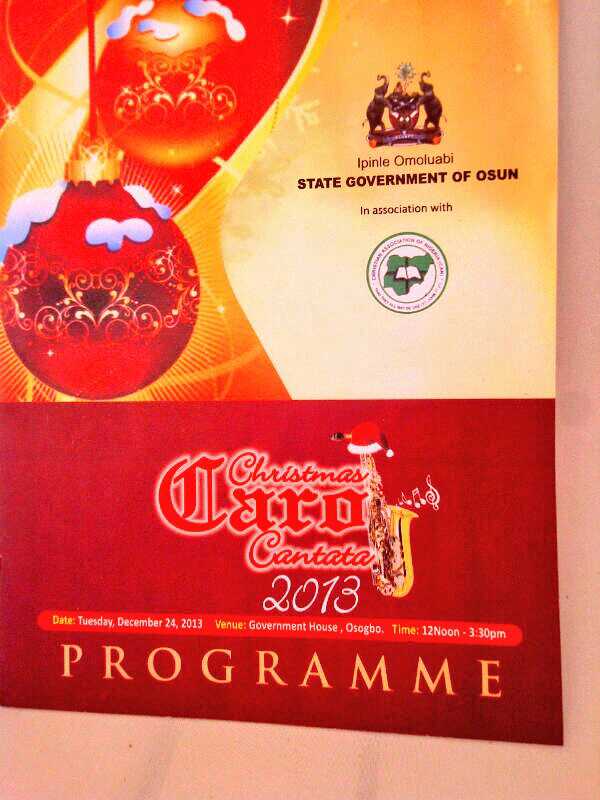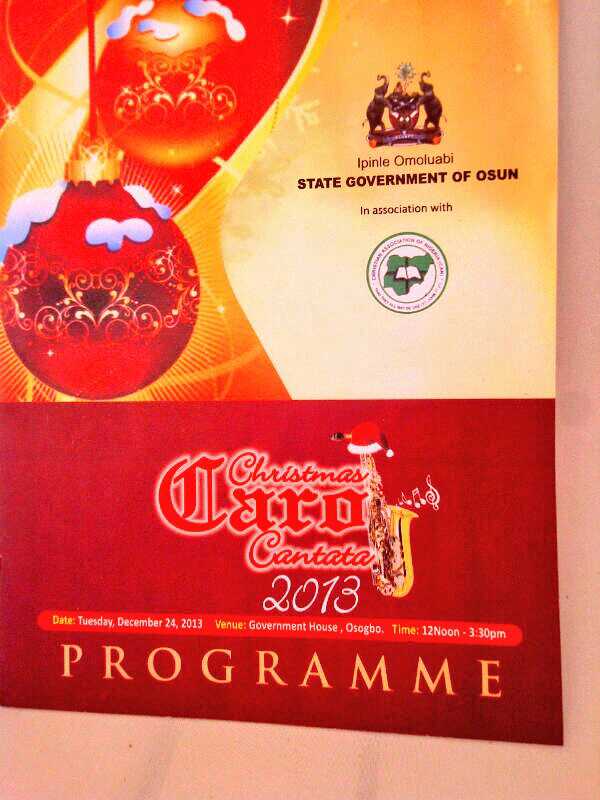 As christians world over celebrate the birth of Christ today, The Governor, State of Osun, Ogbeni Rauf Aregbesola has harped on the need for the spirit of love, tolerance and accommodation to be revived among all and allowed to reign supreme.
He made this known last night in Osogbo at the 2013 Christmas Carol Cantata held on the lawn of the government house,  Oke-Fia Osogbo.It was an avenue for Governor Aregbesola, his wife, Mrs. Sherifat Aregbesola, Dep Gov, Mrs Titi Laoye-Tomori alongside other State Executive members and the Christian body in the State to share the fun of the season together.
Gov Rauf Aregbesola's remark to the gathering was anchored on love for God and one's neighbor as thyself.The gov who read from the book of Matt. 22:35-46 frowned at all acts amounting to discrimination and hatred among people and stressed the need for all to sacrifice ego, eschew bitterness and cover all with love.
Gov. Aregbesola used the avenue to again justify his government's investment and commitment to education saying his effort is to build a system where every child is given the hope of a brighter future through quality education.With a reference to the successes of O-Meal, O-uniform, O-school project, Opon-Imo among other policies, the governor vowed to forge ahead in his effort noting that in 24months from now, education in Osun would have become a model for the nation.
He called for continued understanding and co-operation ,and assured that by February, every public school student in the state would have been given personal identity cards which will contain necessary information about them. The sermon for 2013 Xmas Carol Cantata was given by Arch. Bishop Leke Abegunrin who frowned at the level of moral decadence among public school students.He urged people to steer clear of repaying evil with evil but embracing forgiveness, reconciliation and repentance in the spirit of the season.
The carol featured readings of various portions of the Bible by the Deputy Governor, Mrs Titi Laoye-Tomori, the State Chief Judge, Justice Adepele Ojo who was represented by Justice Yinka Afolabi among several others. Prayers were also said for the Govt, the people of the State of Osun and the nation while various choir groups from all blocks of CAN took turns to offer various tunes all in the spirit of the season, Christmas, which marks the celebration of the birth of christ.