REMEMBERING BOLA IGE: 12 Years On…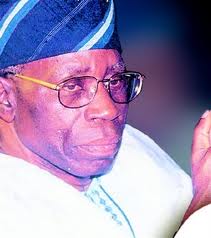 Today marks 12 years since my dad, Chief Bola Ige died. I find it difficult to say he died, rather he was assassinated! Assassinated by evil people, still walking the streets free! The sitting Attorney-General at the time, and Minister of Justice of the Nigerian Federation. Yet there was no justice meted out at his assassination! What a nation! The post-mortem report stated that his heart was not diseased and that he could have lived another 25 years, if his life had not been brutally shot down! Oh murder most cruel! How can someone kill someone I loved so much? My hero, my encourager, my One and Only Dad!
I have noticed that as every end of the year approaches, I am filled with gloom, both sad and happy memories. Memories of the joy and laughter we shared for 41 beautiful years. I was his first and only daughter. He never let me forget that I was precious to God, him and my wonderful mother.
Twelve years on, I still miss him terribly and remember him everyday. The pain never really goes away, but it isn't as poignant as the first time. I remember him for the values and morals he and Mum gave us his children and grandchildren. He lives on in each one of us he left behind, in looks, personality and even gaits! The first three grandchildren have followed in the legal footsteps of their grandparents. His prayer and ours is that they may be greater than him – becoming governor, SAN and Justice of Court Appeal like the grandparents.
We are comforted because we are not alone, the Holy Spirit Our Comforter, Teacher and Counsellor is ever-present. We are also surrounded by the heavenly Hosts; and faithful, true friends of our parents. For these and all God's blessings we are grateful to God and millions of Nigerians who stand with us and by us daily.
I have been reflecting of different ways to honour his memory and commemorate his life. Earlier this year, on April 10, I established the Atinuke Ige Memorial Scholarship at The Vale Tutorial College, Ibadan. The scholarship is for students who have completed their SSCE in a public/ government secondary school. The successful candidates excelled in a written examination followed by an Oratory Competition. The first beneficiaries of this scholarship are already enjoying the full scholarship which covers tuition, boarding, books, examinations, etc. I am fully persuaded that they will do exceedingly well and I promised them that if they get a Distinction A Grade, in all their A-level subjects, I will solicit for funding to send them to any Nigerian university of their choice. I instituted this scholarship because my mother was a benefactor to many Nigerian students. It is in continuation of these high ideals bequeathed to me by my parents, that the Board of The Vale College decided to institute the Bola Ige Memorial Scholarship at The Vale College. Those eligible for the scholarships must be highly gifted Primary Six pupils in public primary schools, in Oyo and Osun States (the states which constitute the Old Oyo State, where he was the first Governor from 1979-83). Like the older beneficiaries, the candidates must excel in a written examination followed by an oral competition. The scholarship will be for the entire six year course of such student at The Vale College. The monetary value of the scholarship is approximately N2million per annum per student, for six years. We would like many young people to benefit from this scholarship scheme.  I appeal to members of the public, all our family and friends to donate generously to this scholarship scheme. All cheques should be written in favour of The Vale College. I promise that all the donations will be
acknowledged and judiciously used for the scholarship awards. The first beneficiaries will commence JSS1 in September 2014 to mark the 20th anniversary of The Vale College.
My thoughts are that since I don't have 'the anointing' to give free education to millions of children, at then same time, like he did in Old Oyo State from 1979-1983, I can positively affect the lives of  the few scholarship awardees who benefit year in, year out, and hopefully they will in turn affect many more lives in their homes and communities. Then I will have the great satisfaction of knowing they only killed Bola Ige's body, they can never ever kill his soul and spirit, because truly, his soul keeps marching on.
Goodnight my dad, my friend and hero. You taught me always to do the Right Thing at The Right Time and in the Right Way. I pray that your gallant and forthright soul will continue to rest in perfect peace. You, Tunde and Mum continue to live on in us, your children, grandchildren , friends, admirers and beneficiaries. Sleep on beloved until we meet again on the resurrection morning, it is well with your soul and ours. Sun re o Ajibola Idowu Ige.
• Mrs Adegbola (nee Ige) writes from Ibadan.