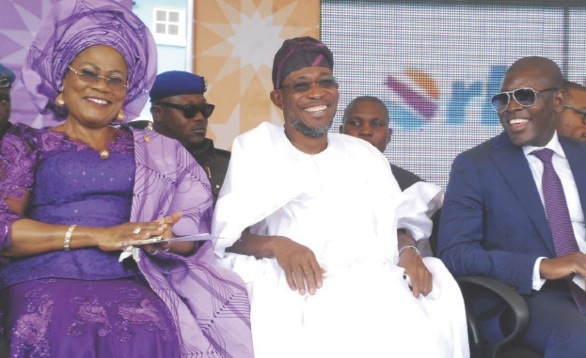 Osun Guber Race: Aregbesola Rides On Job Creation, ICT
While politicians who are nursing the ambition to unseat Rauf Aregbesola as the governor of the state of Osun are making promises on what they are capable of doing and will do if elected into office, the incumbent is pointing at some achievements he has made in the last three years in the areas of job creation and information communication technology (ICT) as his basis for seeking re-election.
Ahead of the August 9, 2014, gubernatorial election in the state, the state government last Thursday flaunted its achievements. Aregbesola told the people that if he and his team could achieve so much between 2011 and now, it would be unimaginable the good fortune that would be the lot of the state in the next four years if returned to government.
It was a celebration of promised kept in the state as the governor, in company of his deputy, Titilayo Laoye-Tomori, led other government functionaries in the state to the launch of a technology centre in Ilesha.


Traditional rulers, captains of industry, students, teachers, community leaders, market women and numerous youths gathered to witness the epoch-making event, the opening of the RLG-Adulawo Technology City.
To most politicians in the country, road construction, rehabilitation and electrification projects are the beginning and end of governance. But then, even though these are germane, they are perishable.
For Aregbesola, enduring dividends of democracy are quality and affordable education for every child of Osun, and other forms of empowerment that can make the people capable of fishing for themselves rather thin being provided with fish always.
Aregbesola's belief stems from the fact that whereas well-paved roads and other architectural constructions can degenerate into death traps and uninhabitable structures as a result of wear and tear over time, a well educated and empowered indigene can positively affect several lives and enhance the quality of infrastructure by virtue of the individual's acquired knowledge and position in life.
In a country where job creation is being politicised and the level of unemployment hitting the roof, only visionary leaders keep to their campaign promises.
Delivering his speech titled 'We shall continue to serve our people', the governor, at the event, said: "We are here gathered to give a toast to, and celebrate the place and power of vision".
According to him, "Our philosophy is that political power is not obtained for its sake but to be used in the service of the people. At the inauguration of our administration, we set many objectives for ourselves. Two key among these are the need to create jobs for our teeming youths and making Osun the hub of ICT in Nigeria. It was a tall order and it looked impossible then. The opening of this complex (technology city), however, is an indication that we are on the right path and we will get to the destination if we keep at it".
It was a carnival of sort, as different traditional musical groups sang and danced, eulogising the development stride of the state under the governor's watch.
Aregbesola's speech was intermittently punctuated by songs rendered in local parlance, the rhythm of which the governor and his guests happily danced to.
The governor further said: "It is the determination of our administration to be a player in the ICT game. You will all recall our computer tablet innovation, Opon Imo, which has been distributed to senior secondary school pupils in public schools in the state. Opon Imo has won numerous awards in Nigeria and abroad and for which we have received expression of interest from other states, corporate bodies and individuals. We are working to increase our capacity for its production, after which we will extend the benefit of this innovation to  other Nigerians. But before Opon Imo, however, we have deployed information technology in salary and pension administration, revenue collection, agriculture and geo-mapping in the state.
"Through Oyestech, we aim to train 20,000 youths in four batches. It has successfully trained 5,000 youths out of which 100 went to Ghana for further training. We are preparing to send another batch of 50 to Ghana. More than 100 graduates of Oyestech have been absorbed into this factory; 50 are working at the Opon Imo factory in Osogbo while more than 400 have found jobs with Chams Plc in Osun. About 2,200 have been empowered to be self employed and are earning decent income."
Aregbesola further said that the complex was a demonstration of his administration's resolve to partner the private sector through the creation of an enabling environment and infrastructure for rapid industrialisation and job creation.
"Our job creation and positive engagement of our youths began in 2011 with the employment of 20,000 youths in O'YES, less than 100 days of being in office. We have also opened up the agriculture sector through O'REAP and have engaged tens of thousands in food crop cultivation, fisheries, beef production, apiary and even cocoyam cultivation. Last year, Omoluabi Garment Factory was opened in Osogbo.
"The spin over effect of our job creation is unquantifiable. The first is that government has been able to torch every household in the state. Through our various job schemes, there is no home that has not felt our impact and families are more comfortable now than before our coming. Secondly, taking thousands of youths off the streets has improved the security situation in the state since the devil finds work for the idle hand. This is confirmed by two recent reports that Osun is the safest state in Nigeria. The third is that the foundation for development has been solidly laid and we can from there move to higher levels," he said.
"The opening of the factory, I am sure, will provide engagement for our detractors and naysayers whose obsession is just to condemn and oppose any policy that improves the lives of our people and brings development to our state. They opposed O'YES, they condemned Opon Imo, they lashed at road construction, they criticised agriculture and food production and they even condemned building a house of worship for God. People who opposed God, what else can they not oppose? When some people oppose God, how can they support and care for the people?
Addressing the cheering crowd, Roland Agambire, MD, RLG, an ICT company, said: "I bring you warm greetings from His Excellency, the president of Ghana. The President of Ghana is happy that RLG is here today collaborating with the State of Osun State and so, I bring you warm greeting from the President of the Republic of Ghana, John Dramani Mahama."
Agambire further said: "Why are we not talking about oil in Osun State? Anybody coming to Nigeria to invest is talking about oil. Today, a lot more people are talking about oil in Ghana. I see technology as a tool that is going to be the driver of the economy and capital investment into this state and decent job creation for the people of this state."
Bambo Bashorun, Oyestech director, commended the Aregbesola administration over the job-creation initiatives.
"Unemployment is a very big challenge to the country. For any nation to grow there must be job and skills acquisition. In Nigeria, efforts to create jobs have been politicized. By the vision of the state government to explore the ICT, opportunities are being created for youths of our state to earn a decent living", Bashorun said.
BUSINESSDAY