2014 Elections: A Peek At The Incumbent In Osun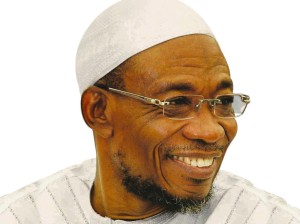 Like his counterpart in Ekiti State, Ogbeni Engineer Rauf Aregbesola fought a hard won battle to reclaim his mandate, as the candidate of the People's Democratic Party Olagunsoye Oyinlola was declared winner in the 2007 elections. This decision was contested at the Election petitions tribunal, up to the appeal court which declared him winner on the 26th of November 2010.
Prior to this, he had survived several assassination attempts while campaigning for office and his main financier was killed and several supporters either killed, maimed, or de-humanised. All these rather than deter him, spurred him on to greater heights.
Upon assumption of office, the governor unveiled a six-point integral action plan. This encompassed the following:
Banish hunger
Banish poverty
Banish poverty
Promote healthy living
Banish unemployment
Promote communal peace and progress
This has formed the fulcrum upon which the initiatives and functions of the administration rotate. Each of the action plans listed above has received and is still receiving attention. In a bid to banish hunger, farmers across the state have received support worth over N1.5 billion naira and a number of incentives have also been put in place to boost agricultural production. These include support to 220 farmer groups under the Osun Broiler outgrower scheme (OBOPS) while 28 Cooperative groups have been equipped to plant 17km of maize and a 500 acre vegetable cluster. 61 local communities have been identified and 1830 rural farmers in these communities have been equipped with farm inputs under the UNICEF Replication Initiative Programme of the Ministry of Water Resources, Rural and Community Development.
Although this initiative effectively captures part of the second and third integral Action Plans, additional efforts have been made to enhance and promote the ideals they stand for. To this end, 70 buses have been provided for transporters to boost transportation.
A physical inspection and assessment of the education sector conducted within one month of this administration found that teachers were underpaid and not motivated, classrooms were crowded, children were undernourished, instruction and learning materials, where found were of poor quality, learning materials were unavailable, and the academic curriculum was found to be grossly inadequate. An education summit was convened, chaired by renowned Nobel Laureate, Professor Wole Soyinka and this team came up with some recommendations for reformation with the theme, "complete child, complete youth, complete citizen". These recommendations include:
O'meals- this is an elementary school feeding and health program where 3,000 food vendors/ cooks were trained and are currently employed to serve midday balanced diet meals to pupils of classes 1 to 4 in all primary schools in the state.
O Schools- This scheme aims to build proper physical structures to replace dilapidated buildings. This is done within the framework of the school reclassification system and there are ongoing plans to build100 elementary, 50 middle, and 26 high model schools.
Opon Imo (e-learning tablets)- The government is providing 150,000 of these for Senior Secondary Schools. This tablet contains over 56 textbooks and covers 17 core subjects and over 5 extra-curricular subjects.
O'calisthenics- under the Osun State Calisthenics programme, the state government has trained a total of 8000 school students with the aim of combining extra-curricular activities with academic pursuits, thus building their minds and their bodies.
The government has also put in place various initiatives for youth to pursue vocational and Entrepreneurial Education especially outside the formal school template.
Furthermore, Osun State has put in place a school reclassification programme which though not different from the national 6-3-3-4 system ensures that the minimum certificate any school leaver will have will be the Basic Education Certificate Examinination (BECE), an equivalent of the Junior School Certificate Examination (JSCE) rather than the primary school certificate. These efforts have yielded fruits as the state which was ranked 34th out of 36 states in the performance rankings of WAEC in 2010, is now placed 8th. Seventeen year old Folafoluwa Oginni, a product of the state's public Education System emerged the overall best pupil in the May/ June 2010 WASSCE, scoring A1 in all subjects and is a holder of the Board's National Distinction/ Merit Award.
Infrastructural renewal is also at an all time high in Osun State. Within 24 months, 513km of high quality roads were constructed. Local Governments were also directed to embark upon the construction of high quality 10km roads within their locales. This is made possible through prudent management of resources, and a concerted plan which has seen Internally Generated Revenue (IGR) rise from N300m to N1.5.bn per month.
In other areas 125 patrol vans, 5 armoured personnel carriers and one helicopter have been provided to boost security, primary school basic funding grant has increased from N7.4m to N424m per year, and 123km of arteries, waterways and canals have been dredged to prevent flooding.
In line with his desire to carry along every citizen, the Bureau of Social Services (BOSS) was set up and is in charge of ensuring that the people of the State receive maximum social benefits from all the policies and programs of the state government. Essentially, it monitors and evaluates projects, and is also charged with assessing the performance of state commissioners and heads of MDA's in the implementation of the 6 point integral Action Plan. The citizens are also a part of this monitoring as BOSS encourages individuals to report any perceived abnormalities in the way projects and programs are carried out.
The man behind all of this is a former activist and was a commissioner for works and infrastructure in Lagos State while running for office of governor in Osun. It is a known fact that the Governor of Lagos State, Raji Fashola stands head and shoulders over his contemporaries in this current dispensation, as far as developmental efforts are concerned. One can therefore be forgiven for insinuating that Ogbeni Rauf Aregbesola studied at the feet of the master and is determined to replicate if not excel in his own state,the many skills learnt in his past endeavours. Little wonder former governor in the state between 1999-2003, Chief Adebisi Akande describes, the ongoing infrastructural developments in the state as a "miracle." A main concern however has been how the state is funding these developmental projects and whether the tempo can be maintained.
In appreciation for these efforts, the congresses of the party nominated him for a second term in office and at the primary election, 269, 631 members out of 355, 390 members of the party registered in 332 wards across the state gave him their mandate to contest for a second term in office. One only hopes that when/if he gets there, he will consolidate on his past efforts and make Osun State, one its citizens will be truly proud of.