INTERVIEW: Adedoyin Shares On The Agricultural Vision Of The State Of Osun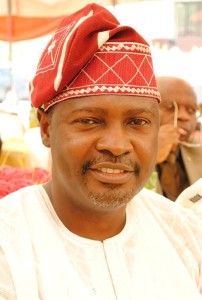 Osun.gov.ng team caught up with Hon Wale Adedoyin, the Honourable Commissioner for Agriculture and Food Security in the State Of Osun. It was an opportunity to shed more light on the agric transformation in the state and the vision of Ogbeni Aregbesola to turn around the economy of the state through agriculture. An explicit interview indeed… Below are excerpts from the interview.
OSUN.GOV : What is the vision of the present administration concerning agriculture?
Hon Adedoyin: The vision of the present Administration is to supply at least 10% of daily #3.5 billion worth of food (i.e. food consumption propensity) in Lagos market. This would be achieved through the evolvement of a progressive, buoyant and productive agricultural sector able to guarantee food security and adequate returns on agricultural investment capable of attracting youths, other individuals and corporate bodies to the sector. The mission is achieving food security, wealth and job creation, youth empowerment, economic transformation and making the State of Osun the hub of agriculture and an emporium of commerce in the South West of Nigeria.
OSUN.GOV: How far has this vision been achieved?
Hon Adedoyin: The vision had been achieved to a very great extent with the initiation and implementation of Osun Rural Enterprise and Agriculture Programme (O-REAP) under the Aregbesola Administration. The Government has put in place O-REAP as an intervention programme to explore the potential of the State to ensure massive food production, boost the state economy, achieve an acceptable level of farm income, reduce income variability, improve competitiveness of the agricultural sector assure safe and high quality produce as well as food security.
The notable Agricultural Interventions and laudable achievements follows:1,606 OYES Cadets have been trained in Modern Agriculture at the newly established O-REAP Youth Academy located in the 9 Federal Constituencies while 250 other youths have been trained in agricultural production at Leventis Foundation, Ilesa;  also 20 youths including O-YES cadets, O-REAP Youth and the general public have been sponsored to Germany in pursuit of advanced practical training in Agriculture, and twenty others are receiving refresher course in German Language at the Obafemi Awolowo University, Ile-Ife and would soon go to Germany. Concerning agric in schools, we are catching them young, in that wise 153 Secondary Schools across the State have been supported in various Agricultural programmes such as Poultry, Piggery and Crop Production.
We also have Young Farmers Club also launched in Schools; In the area of storage facilities, we have built 1 (No.) 1000 MT Warehouse, 1 (No.) 500 MT Warehouse, 7 (Nos.) 120 MT Mini Warehouses and 92 (9.2MT) Cribs have been constructed across the State to serve as On/Off Farm Storage Facilities; Our farmers have also been provided with credit facilities, presently  3,645 Farmers across the State benefitted from the sum of N476,350,000 from the Government Guaranteed Agriculture Loan Scheme; 268 Farmers benefitted from the sum of N45,662,065 from O-REAP Loan Scheme and we have earmarked N40m as loan to support Piggery Farmers in the State.
Land clearing is a challenge to farmers because they do not have the capacity to do that but we intervened,  3,070.3 Ha of Land Cleared; 6,209.4 Ha of land Tractorised across the State. It is useless to plant and not transport the produce to the market, with regards to that,  a total of 156 Km of rural roads were constructed including 25 Km road asphalted in Mokore Farm Settlement, 20 Km in Alaguntan at Ago-Owu Farm Settlement), 6 Km road at Esa-Oke Farm Settlement, 39 Km road at Pataara, 58 Km roads at other farms and an 8 Km road under the Quick Impact Intervention Project (QIIP). We have also invested in aquaculture, 3 Fish Farm Estates was established at the 3 Senatorial districts in the State namely Esa-Odo, Iwo & Owalla.
A total of 120 Metric Tons of Catfish have been produced in partnership with Kayolad Nigeria  Limited, under Osun Fisheries Outgrowers Scheme (OFOPS) which was supported with N36, 800,000 to promote Fish production and train Youths. Similarly, under OFOPS, a sum of N253million was provided under arrangement with Feg-Agro Nig Ltd which is the Scheme Manager, Association of Aquatic Farmers & Agro-processor of Nigeria(AAFAN), State of Osun branch to produce 800 metric tons of catfish as well as processing for value addition. The scheme has supported 400 Fish Farmers.
The big one which has impacted on our school feeding programme is the partnership between TUNS Farm Nig Ltd, TUNS is the Scheme Manager under our Broiler promotion programme. We call it Osun Broiler Outgrowers Production Scheme. A sum of N539,435,200 was provided for 578 farms in which over 3,779,400 Day-old Chicks were raised. The farmers have made over N185million as profit in this scheme.
We have invested and encouraging every aspect of agriculture for the benefit of our people and our economy.We are encouraging piggery production, catfish tilapia breeding, honey breeding, cattle breeding and processing. This medium is not enough to detailed all that we have done.
OSUN.GOV: You promise to offer free transportation services by Railway for farmers, what is the status of this programme?
Hon Adedoyin: The free transportation services by railway for farmers was initiated and implemented to facilitate transportation of goods and farm produce to and from Lagos free-of-charge. This was intended to eliminate transports cost and invariably translate to more profit for farmers who will not pay for transport. The goal is to make farm produce available at farm prices in Lagos and through that capture 10% of the food market in Lagos. The free freight for food commodities is part of our agricultural programme intended to assist our farmers to market their produce, minimize wastage and improve their earning power. The food hub is yet to be completed to the desired level while the depots are not fully ready for supply of agricultural products to 57 markets in each of the 57 Local Governments in Lagos.
The free freight for agricultural commodities is not catching on with the people as much as we would want, as farmers are yet to take full advantage of the free freight because they are still held down by the old method of transportation.The government of the state of Osun is still improving upon the Memorandum of Understanding between her and the Nigerian Railway Corporation. There is no prohibition on how many times goods can be moved.
OSUN.GOV: Osun Cattle Hub in Iwo, what informed the project and how far have you gone in these projects?
Hon Adedoyin: The Osun Cattle Hub, otherwise referred to as the Beef Chain Development Project, was initiated by the Aregbesola Administration with the primary objectives of introducing new genetics to improve the carcass and meat quality of local cattle. The programme targets an initial 10% of the Lagos cattle market estimated between 165,000 – 200,000 cattle per year. The programme is expected to fatten and slaughter cattle in Osun for the Lagos market. The facilities we have provided in the hub includes: Construction of three (03) feedlot paddocks, sinking of four(04) boreholes rehabilitation of electricity supply, re-construction of one of the two(02) junior staff quarters  and grading and construction of farm road within the complex.
OSUN.GOV: The Government is upgrading infrastructure in the Farm Settlements, can you please enlighten us further on this?
Hon Adedoyin: The upgrading of infrastructure in the nine (09) Farm Settlements were undertaken to create favourable and conducive environments for farmers in the rural areas so that they have access to their farmlands. The Administration of Ogbeni believes that infrastructures such as good roads, electricity, potable water, etc would not only enhance human living but would also greatly boost socio-economic activities of our people. In collaboration with Rural Access and Mobility Project of the  Ministry of Rural and Community Development, the Ministry of Agriculture and Food Security (MAFS) had completed a 12-kilometer road from Iwo to Pataara, an 18.7 kilometer Mokore Farm Settlement Road in Ayedaade Local Government Area of the State and a 5-kilometer Esa-Oke to Esa-Odo Farm Settlement Road in Obokun Local Government Area   as well as a 10.8 –kilometer Idi- iroko to Akinleye road in Iwo Local Government Area of the State. It also supervised the construction of four cell box culverts at River Oba on Idi-iroko and Akinleye roads.
To sustain the roads and ensure that the over #2 billion   spent on rural roads by the Government do not amount to a waste, maintenance groups were formed to carry out routine maintenance on the roads. This giant stride has given farmers unrestricted access to transport their farm produce from farm to market in urban cities. With the upgrading of infrastructures, the MAFS had touched the lives of rural dwellers positively and repositioned the people at the grassroots for economic vibrancy. The intervention is now paying off as it is aiding government efforts of guaranteeing food security in the State.
OSUN.GOV: What is the Government of Osun doing on opening up land and clearing it for farm purposes?
Hon Adedoyin: The State Government is opening up land and has been given such farmland to farmers in order to boost food production in the State. In 2011  ,the Government 50 hectares of land at Mokore Farm settlement and allocated the land to O-REAP farmers, while in 2012, 100 hectares of land Was cleared at Akinleye, Iwo Farm Settlement and allocated to 20 O-REAP farmers. In 2013, the administration cleared77.8 hectares in Ifon- Orolu, 74.7 hectares in Ila- Orangun, 52.4 hectares in Ago- Owu and 48.3 hectares in Iwo. Government also gave support to the settlers on land tractorization in 2011/2012 in four farm settlement including Ago- Owu, Esa-Oke, Iwo and Mokore
OSUN.GOV: School feeding programme and Agric are inter-related, what is the connection?
Hon Adedoyin: The Osun Broilers Out-growers Scheme (O-BOPS) and Osun Fisheries Outgrowers Scheme (O-FOPS) are the two agricultural initiatives under O-REAP that are inter-related to the Osun School Feeding Programme (O-MEAL). Both O-BOPS and O-FOPS under the Scheme Manager enjoy linkage with O-MEALS which is another laudable initiative of the Aregbesola-led Administration whereby broiler chickens, fresh fish and red cocoyams are bought back by the State Government from the participating farmers to feed primary school children.
The MAFS supplies chicken and fish for a balanced meal for almost 250,000 pupils. The Ministry of Agriculture and Food Security is represented at the Steering and monitoring Committee of the Osun School Feeding Programme which facilitates continuous dialogue for the success of the Programme. The scheme is hereby recommended for replication in other states of the Federation on accounts of its tremendous success.
OSUN.GOV: From when you took over as Honourable Commissioner and till now, how will you rate this administration effort?
Hon Adedoyin: The Government efforts have focused on massive food production through land preparation, mass mobilization of existing and new farmers, and introduction of new techniques, improved seedlings and easy access to other important inputs that would make farming extremely profitable and attractive. No doubt the efforts of the State Government have yielded positive results and the government is still very much committed to turning the State into the food basket of the nation. The state Government of Osun had invested much in Agriculture and had committed more time and energy to agriculture which is the primary focus of the present Administration. Though our people would say," you cannot be a judge in your own case" l, however, in the words of Chinua Achebe "A lizard that jumped from a tall "Iroko Tree" would praise itself even if no one else did".
The present Administration had recorded tremendous success in diverse areas of agriculture including land clearing, provision of improved varieties of seeds and seedlings free- of charge, provision of fertilizer at highly subsidized rates e.t.c. Indeed we have brought back the lost glory of agriculture in the State and efforts of the Aregbesola-led Administration should be rated very high for the sterling achievements in many areas of agriculture.
OSUN.GOV: What is the greatest problem agric is facing in the State?
Hon Adedoyin: Agriculture in the State of Osun is confronted by multifarious challenges including Land tenure system, poor storage, transportation, processing facilities that are surmountable. Other major challenge facing Agriculture in the State is rain-fed agriculture, the unpredictability of rain and long spell of dry season. The greatest challenge facing Agriculture in the State is that of marketing with occasional market gluts recorded about certain commodity. The marketing challenges were identified on maize, cassava and fish due to bomber harvest occasioned by the O-REAP intervention programme.
OSUN.GOV: Osun has been classified as the 7th largest economy. Has Agric played any factor in this?
Hon Adedoyin: Yes! Agriculture is the mainstay of our economy in the State of Osun, Nigeria. The sector provides food for the citizens, raw materials for the agro-allied industries and employment for over 70% of our economically active population who are engage (directly or indirectly) in the practice of agriculture.
OSUN.GOV: Youths are running away from agric what efforts you are making to encourage and attract them to it.
Hon Adedoyin: One of the peculiarities of Agriculture is the gestation periods of agricultural produce takes place over time and space. Youth are not aroused to the fascinations of agriculture because agriculture does not give quick gains compared to the Okada syndrome.In its bid to empower, encourage and attract the youths to Agriculture, The Aregbesola-led Administration had initiated and implemented many youth friendly programmes including O-REAP Youth Academy, Agriculture – in- Schools programme and the Young Farmers Club. Twenty (20) youths (including O-YES cadets, O-REAP Youth and the general public) have been sponsored to Germany in pursuit of advanced practical training in Agriculture, and twenty others are receiving refresher course in German Language at the Obafemi Awolowo University, Ile-Ife and would soon go to Germany while 1,606 were trained in modern agricultural practices for massive food production.
The youths have been formed into cooperative groups and registered with the Ministry of Commerce, Cooperatives, Industry and Empowerment for self employment.. The Government of the State of Osun had put in place other programmes in the area of agricultural input supply at 50% subsidy as well as fisheries, livestock and veterinary services to mitigate the various challenges associated with agriculture.
There are also agricultural mechanization (land clearing and tractorization) services rendered free of charge or at highly subsidized prices to reduce the drudgery of human labour, about which youth are known to have demonstrated a strong aversion. The Youths have been equipped with requisite skills that will enable them to contribute adequately to agricultural production even as they legitimately earn a decent and virtuous living. The involvement of youth in agriculture is another way of tackling the menace of youth unemployment.
OSUN.GOV: There is a partnership between Osun and the State of Saxony-Anhalt, Germany; can you brief us about this?
Hon Adedoyin: There is a robust collaboration and partnership between the State of Osun and the State of Saxony-Anhalt, Germany in the area of agriculture especial on training in modern and establishment of soil and food laboratory.  The decision to send 40 youths for training in Germany was prompted by the country prowess in the field of agriculture. We believed in tapping from the wealth of experience of a leading economy in Europe (Germany) that does not import but export food products.  The 20 youths have been formed into cooperatives and empowered for self employment.
OSUN.GOV: What other innovation is the administration making in improving agric practices in the State?
Hon Adedoyin: Government cannot do everything. We are strategizing and improving more on Public-Private Partnership in the implementation of projects for   efficiency and sustainability. In addition, we are also investing in soil and food Laboratory Analysis, provision of irrigation facilities for all year round farming and agricultural land expansion and land bank. In all, we are in partnership with international research institutes and we will always introduce innovations capable of raising the standard of living of our people and the state in general.
OSUN.GOV: Thank you so much sir for taking time out to attend to us
Hon Adedoyin: I also say thank you too. It is a pleasure.