Aregbesola, Ataoja Harp On The Economic Gains Of Osun Osogbo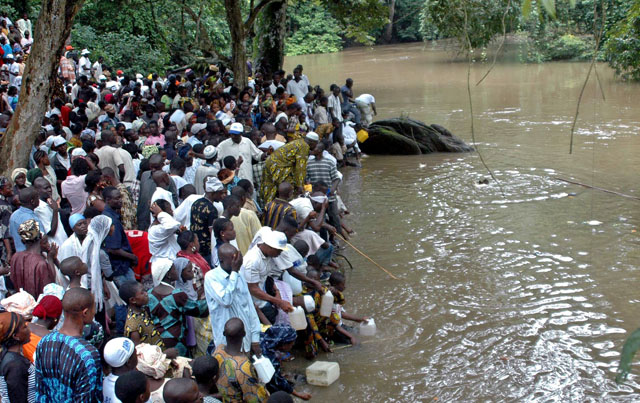 AS the activities marking this year's celebration of Osun Osogbo Cultural Festival formally begins, Osun State Governor, Rauf Aregbesola and the Ataoja of Osogbo, Oba Jimoh Oyetunji Olanipekun Larooye 11, have called on Nigerians to take advantage of the tourism potential of the cultural fiesta even as the state government targets its share of $4 billion tourism domestic market.
Speaking at the Festival Corporate Forum held in Lagos yesterday, the traditional ruler of Osogbo, who is the custodian and chief celebrant of the yearly festival, said the celebration has gone beyond a religious or cultural affair to that of tourism with the potential to bring about the economic development of the people.
It is for this reason, said the monarch, who spoke through Chief Jimoh Buraimoh, that the festival has continued to attract support with many activities built round it. ''Essentially, these activities with other associated ones, are to springboard cultural tourism development in Osun State and generally in Nigeria,'' he said.
Also speaking in the same vein, Aregbesola, who was represented at the occasion by his Senior Assistant on Tourism and Culture, Mr. Ladi Soyede, pointed out that it was because of the importance that the state government attached to tourism development that prompted its promotion of cultural events and other related activities in the state, Osun Osogbo Cultural Festival inclusive.
According to him, the huge investment and progress made by the government in the cultural sector in the last three years has impacted on the fortune of the festival as it has become the biggest festival in the country.
Soyede revealed that the festival last year recorded 21, 713 domestic visitors and 123 foreign tourists while the Abuja Carnival, the closet to it recorded 19, 015 domestic tourists and 113 foreign tourists.
He said that the target of the state government is to get its fair share of the estimated $4 billion domestic market and the $3 billion Diaspora market. To this end, he said that the government would double its effort at developing and promoting its cultural and tourism activities