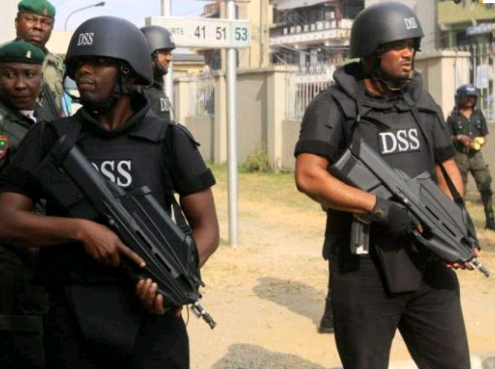 Osun Residents Defy SSS Gun Shot Threats As Masked Men Match Round State Capital
Heavy presence of men of the Directorate of State Security (DSS) is now in Osun ahead of the August governorship poll.
However, the unusually heavy presence seems to have angered most residents who expressed anger at the open display of weapons without any signs of provocations by the residents.
Residents claim they started noticing the heavy presence from Tuesday as about 70 white Hilux vans and Peugeot Boxer Coaster buses filled with the gun-wielding DSS men cruised round the state capital Osogbo and many other parts of the state.
Residents started discussing the development in hushed tones from Tuesday, as many looked at the masked men with disdain.
However, by Wednesday when gun shots rent the air in many parts of the states sending many people scampering for safety, many of the residents later came out saying they would not be intimidated by the masked men.
At the Oke Fia area of the city, our correspondent gathered that several bullets were fired into the air as the long convoy of the men in black uniform drove recklessly through the towns.
An official of one of the banks located at the Oke Fia Roundabouts in Osogbo said the activities of the men of the DSS was creating a lot of panic adding that the Federal Government would be doing a lot of damage to the country's already tense situation by shattering the peace Osun had enjoyed.