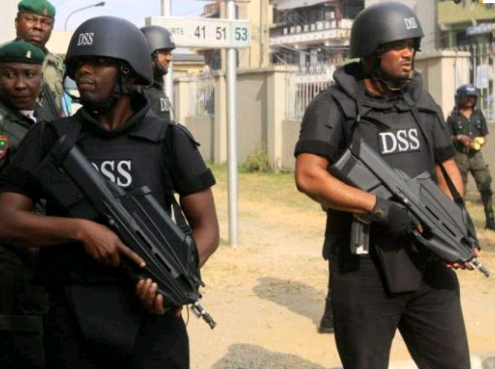 SSS Operatives Storm Firm Conducting Poll On Osun Election, Arrest Officials
Operatives of the Department of State Services, alias SSS, on Friday descended on the corporate headquarters of a Lagos-based research and marketing firm, holding its staff hostage, ransacking its offices and premises and whisking away three of its personnel, witnesses and staff of the company have told PREMIUM TIMES.
TNS-RMS, based in the Ojodu area of Lagos, is a full service research agency founded in 1980. It offers market research and marketing services for organisations and multinationals in West and Central African sub-regions.
Our sources, who asked not to be named for fears they might be arrested, said the operatives arrived the company at about noon on Friday with a search warrant.
"They just came and said they have a warrant to search our offices and premises," a witness said. "They did not say what offence we committed or what they were looking for. They remained on our premises till past 4 p.m. ransacking files and scrutinizing computers.
"At the end of the day, they took away our chairman, Kareem Tejumola, who is over 70 and three other staff members to their Lagos state office in Shangisha.
"They were released around 10:30 p.m. on Friday and asked to report back on Saturday for further interrogation."
Another staff member said shortly after the operatives began their search, they started asking questions about the opinion poll the company was conducting on the forthcoming August 9 governorship election in Osun state.
He said at a point, the staff members were asked to put together all the questionnaires administered and the data collected in respect of the opinion poll.
The operatives took the documents, and at least two laptops being used for the analysis of the poll away, the source said.
The spokesperson of the SSS, Marilyn Ogar, could not be reached to comment for this story at 1:30 a.m. on Saturday.
But a source in the Service confirmed to PREMIUM TIMES that the operatives were dispatched to the company to confiscate documents relating to the opinion poll. He asked not to be named because he was not authorized to speak on the matter.
"We got instruction from above to stop the company from releasing result of its survey. We are told the result of the poll was going to indicate that (Rauf) Aregbesola would win the election. Government does not want that kind of poll at this time."
The Osun governorship election is scheduled for August 9 and both the Peoples Democratic Party [PDP] and the All Progressives Congress [APC] have been accusing each other of trying to rig the election.