Delta Delegation In Osun To Understudy School Feeding Programme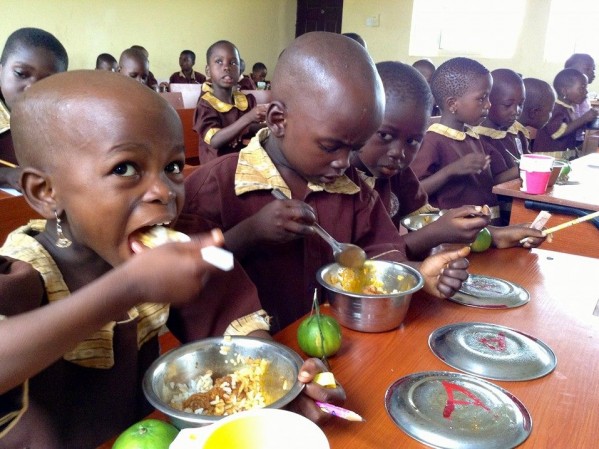 Delta State Government has dispatched a high-powered committee on food and nutrition to Osun State to understudy the latter's school feeding programme in order to replicate it in the state.
The committee comprises 17 members and is led by the UNICEF Desk Officer in the state's Ministry of Finance, Mr. Akozor Nduka. The members were in Osun State as an intervention by the Delta State Government to introduce the feeding programme to encourage pupils in crisis prone communities of the state.
Part of the tour of the Delta State committee members was the physical inspection of 'O-Meals' food vendors and their food at L.A Elementary Model School, Imo, Ilesa, as well as how centrally distributed food items like beef, fish and egg are being processed, packaged and distributed at abattoir in Ilesa and Feg Agro Farm, Ijeda-ijesa respectively.
Speaking to Daily Independent, leader of the team, Mr. Nduka, described the school feeding programme in Osun State as the best and most organised in the country, which other states need to emulate.
He disclosed that the aim of the Delta State Government was to introduce school feeding as an intervention to encourage pupils in crisis prone communities of the state.
Akozor, who noted that a hungry pupil as a result of the poverty level of the parent cannot concentrate in class, said the best way to encourage attendance, enrolment and concentration is by introducing school feeding at least once daily.
He emphasised the need for other states, including Delta, to understudy the school feeding programme of Osun as a role model to succeed.
According to him, Osun is the leading example among the states of the federation carrying out the school-feeding programme in the right way.
He stressed that arrangement would be made to ensure those in authority and policy makers in Delta State come to the State of Osun to see things for themselves in a bid to facilitate quick implementation of the programme in the South Southn state.
Earlier, State Operation Officer for Osun School Feeding and Health Programmes, Mrs. Olubunmi Ayoola, while briefing the delegates before the field inspection, hinted that Osun school feeding gulps N12.7 million daily.
Ayoola argued that the Governor of the State of Osun, Rauf Aregbesola, was passionate in bridging the gap between children of the poor and the rich through 'O-meals' and other school facilities he provided, thereby making him to regard it as an investment in the lives of the future leaders rather than expenditure.
DAILY INDEPENDENT