SPEECH: Giant Strides At A Special Time – Rauf Aregbesola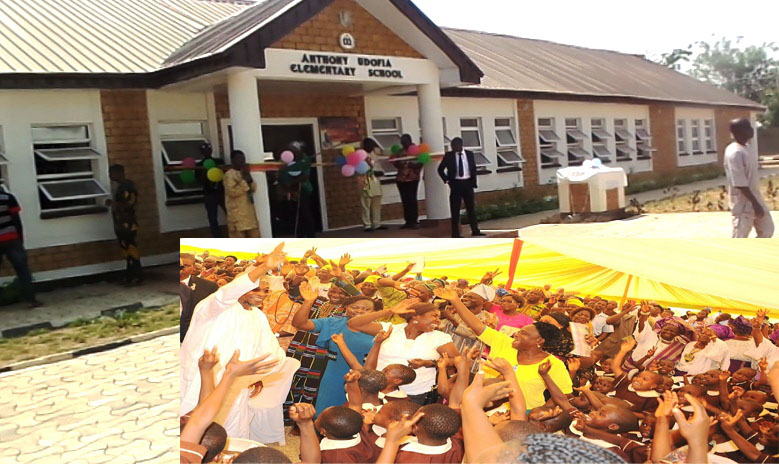 SPEECH BY THE GOVERNOR OF THE STATE OF OSUN, OGBENI RAUF AREGBESOLA, AT THE COMMISSIONING OF ANTHONY UDOFIA GOVERNMENT ELEMENTARY SCHOOL, AT THE SCHOOL PREMISES AT OKE-FIA, OSOGBO ON TUESDAY JANUARY, 11, 2016

Protocols,
Giant Strides At A Special Time
It gives me great pleasure to be gathered with you well-meaning people in the joy of today, the commissioning of Anthony Udofia Government Elementary School. I congratulate the people of Osogbo, the teachers and staff of this brand new school, its pupils and their parents and those working for the development of education in this state.
Assembling here to commission Anthony Udofia Government Elementary School is the third time this joyous train will arrive in Osogbo. Actually, we began the commissioning of our legacy schools with Salvation Army Government Middle School at Alekuwodo on October 2, 2013. We were again in Isale Osun on March 13, 2014 for the commissioning of AUD Government Elementary School. You are going to see us again in Osogbo very soon to commission other legacy schools, by the grace of God.
We are building 100 Elementary schools like this across the state; though this is ambitious, the idea behind it is that there should be an elementary public school in every neighbourhood. Elementary school is the basic of the basic education. Any child with a good elementary school foundation will have no problem making progress educationally, other things being equal.
Being in this school gives the satisfaction of being in the proper environment of learning. The complex we are in is a 960-pupil capacity school with 24 classrooms of 40 pupils each, with further capacity for upgrade to 1,000. It has an ICT room, a library, multipurpose hall, 29 toilets, offices for headmaster, facility manager, staff room, food court, sick bay, security/reception office and a water fountain for aesthetics. It cost N140 million for the structure, furnishing and landscape.
I am happy and fulfilled that we have public schools that can compete with the best in the world and indeed, our new schools are the ones to beat around here.
All these are in fulfilment of our promise to provide functional basic education for the pupils in the state. This stems from our conviction that every child is owed basic education. It is a fundamental and inalienable right of every child.
Basic education is basic, pardon my tautology. A good basic education fulfils the definition of literacy as the ability to read and write and is a solid foundation on which other superstructure of vocational training or higher education can be built upon. Having the ability to read means that one can receive information and systematised knowledge stored in various retrieval forms like books, digital electronic devices and by direct observation of events and phenomena. This includes the capacity to observe, understand and make sense out of nature, creation and one's environment in the most basic form. To write means also that one can graphically reproduce one's thought, observations, ideas and received knowledge in clear, free flowing prose, in at least one language.
Though we usually take this for granted and confuse it with passing through an educational institution, but we are increasingly faced with the stark reality of school leavers who cannot express themselves or reproduce knowledge in spoken or written form because they neither have the knowledge nor possess the ability to reproduce it. This failure is manifest in no better form than the less than five percent success of pupils in external examinations before our coming in 2010.
This is why we have made education development the priority of our administration. As you are mostly aware, these schools and other innovations are the products of the educational summit we held immediately after my inauguration. Indeed, we are constructing 100 brand new state-of-the-art Elementary Schools, 50 Middle Schools and 20 High Schools. Out of these, 14 Elementary Schools, 15 Middle Schools and 11 High Schools, including the one we are commissioning today, have been completed, receiving finishing touches and awaiting commissioning, to the glory of God.
Fulfilling our commitment to complete these school projects and our other obligations is financially challenging, if not herculean. As at Friday January 8, the new OPEC Reference of 13 Crude Basket which includes Nigeria's Bonny Light sold for $28.46. This is a new low for the cascading price of crude oil, the life line of the nation's economy, which hit a dazzling height of $140 in 2013. It is a crude awakening to the grim fact that any hope of allocation from the Federation Accounts is gone. We must therefore face the twin realities of first living within our means and making our own money. We must be engaged in productive activities that will lead to job creation, wealth creation and generous taxation to the government.
Our people must work hard and double their productivity. We must all be engaged in one productive activity or the other. The youths, especially fresh graduates and school leavers, must find something to do, especially in agriculture, an area where we have tremendous advantage. As I told the people of the state recently, the era of free, unearned money is gone. This is not a situation peculiar to Osun alone. Only states that can generate its own revenue will be able to withstand the financial disaster that befell the nation on account of the precipitous slump in oil price. We are now faced with two choices: to sink or to swim to the shores of safety and prosperity. The rule of self-preservation dictates that we must take the later course.
In addressing this challenge, it is also imperative that we live within our means. It is impractical anyway to do otherwise, since states do not print money and you cannot spend what you don't have. The government sits atop society and presides over contending and competing interests therein. It is our duty that no particular interest predominates and asphyxiates other interests and put the survival of the state in danger. We must therefore reasonably spread what we have, especially on human development. People must be the focus of development, from where it will spread to every other interest in society. This is why we have been unwavering in our commitment to human development projects like education. For this reason, this school projects must be commended by all.
There is this ignorant and unreasonable idea being vigorously promoted by a few disgruntled media organisations and their political sponsors that reduced government to paying salaries alone. We are fully conscious of our legal and moral obligations to workers, yet, the truth is that workers are less than five per cent of the population of the state over whom we have responsibilities as a government. The idea therefore that all state's resources must be spent on workers alone is insane, unsustainable and impossible.
These media organisations have been inciting workers and pensioners to rebellion, subversion and sabotage, with the intent of destabilising the state and disrupting the peace of our communities. In the past, they have made futile attempts to precipitate religious crisis by inciting Christians against Muslims in the state. It did not fly. They have also made repeated but failed efforts at inciting Civil Servants against the government. They have failed also. They hunt for crises and where they could not find any, they invent stories and write fiction, thereby putting the noble profession of journalism into disrepute, just because they want to stoke crises in the state.
I must commend the mainstream Civil Servants for not taking the bait and falling prey to the infernal political schemes of failed politicians whom the people of this state have consistently rejected at the polls and who want to take over the government thorough subterfuge and conspiracy.
This is why other categories of workers in the state's employment must see reason and cooperate with government on the need to live within our means. We have the lesson of history that the greatest leap in human development comes from the greatest challenges. The greatest monuments and the greatest scientific innovations were recorded at uneasy periods. This is a very special time that requires faith, understanding, creativity and new thinking. Albert Einstein, the great physicist, once defined insanity as doing the same thing, the same way, all the time and expecting a different result.
I have the faith that with the various efforts we are making and fresh opportunities we are exploring in agriculture, solid mineral development, tourism and manufacturing, we will surmount the present challenges, create wealth and usher in new round of prosperity and wealth creation.
I will like to thank all the people that have made today's occasion a huge success, beginning with the Federal Universal Basic Education Commission and its state counterpart, all the agencies and officials of government on education, especially my able deputy, Iyaafin Grace Titi Laoye Tomori, the construction firm that handled the project, the teachers, staff and pupils of this school and all men (and women) of goodwill.
I thank you all for your kind attention.
Osun a dara!