Osun To Turn Kiriji War Site To World Class Recreation Centre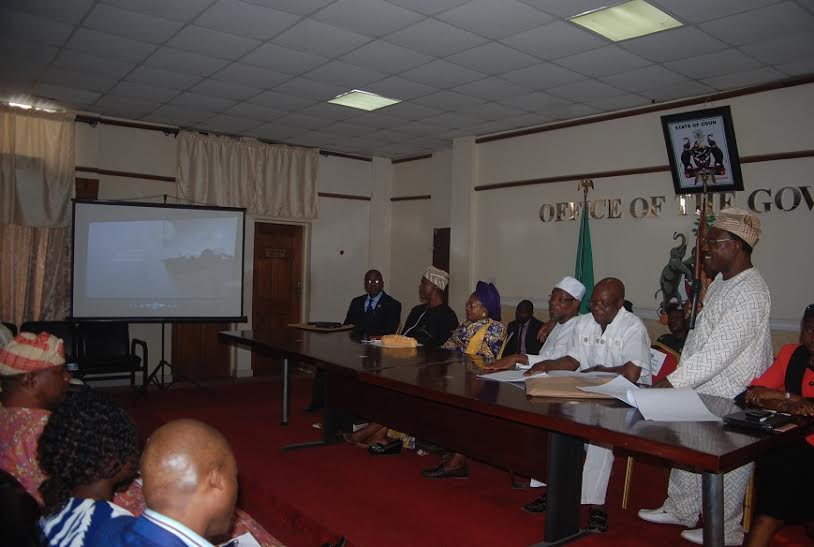 The Governor of the state of Osun, Ogbeni Rauf Aregbesola has disclosed his administration's resolve to resuscitate the dearth status of the state's tourist centres.
Governor Aregbesola said the current excruciating economic system remains a sacrosanct wake up signal for every serious government to look beyond the crude oil revenues.
Governor Aregbesola made the disclosure while playing a host on Committee set up on the Design of Kiriji War Site Road Networks in Igbajo and Imesi-Ile respectively.
Governor Aregbesola who described Kiriji site as significant historic site for all yoruba race, said his government would do all it could to position the site to a world class recreation centre.


Aregbesola attributed the primitive Kiriji War site to what he described as cultural repository asylum, stressing that his government would not hesitate to invest in bringing back to life, the yoruba socio-cultural and ethnical legacies.
The Governor averred that tourism as a lucrative sector has the countless number of potentials to boost the state's Internally Generated Revenue, IGR, and as well place the state to a viable position among the world tourist centres.
Aregbesola said the time has come to alternate tourism as a realistic means to revenues from Federation Accounts, reiterating that no stone would be left unturned to ensure its total realization.
Governor Aregbesola who recounted his laudable achievements since assumption of office, said his government has regurgitated the untapped potentials of tourism, which he said has witnessed tremendous changes and as well contributed positively to the socio-economic and cultural lives of the citizenry.
Aregbesola however commended the committee for coming up with such brilliant idea, which he described as monumental initiative, saying the significance was not only meant to jerk up the state's economic value, but to improve the cultural heritage of yoruba race.
He charged the state Ministry of Home Affairs, Tourism and Culture to facilitate the project, promising that his government would ensure all round revival of the historic Kiriji War site to attract the deserved economic values.
"I am fully impressed on this well-thought out proposal to improve our cultural heritage. Though our government has been very undaunted, resilient and steadfast in rehabilitating, enhancing and improving the tourism sector, but nevertheless, much still need to be done to ensure that all the tourist sites in the state are revamped for the betterment of our people.
"Although implementing a project like this takes much in terms of resources and timing that cannot be completed or finished in a short period, but notwithstanding, but we will commit necessary human and material resources to ensure that the good gestures are realized.
"Our government is highly interested in initiating some things that will show that Kiriji is not an ordinary site to yoruba person, but rather an historic site that creates importance and significance particularly on our unity, our commitment to peace, progress and development.
"We will do this so as to continuously promoting our cultural heritage for future generations.
To achieve this, Governor Aregbesola charged the Ministry of Home Affairs, Tourism and Culture, to get a consultant to assist it into comprehensive research that will enhance and facilitate the smooth implementation of the proposed projects.
Governor Aregbesola called for deep research into all aspects of the Kiriji War which he opined that would enhance the seamless execution of the project.
" This is a good demonstration of social responsibility. I thank the initiator and those who brought this wonderful initiative to limelight and we assure you of fruitful partnership", he stated.
Governor Aregbesola who urged  members of Nigerian Society of Engineers, NSE, to always show concern towards the socio-economic and infrastructural welfare of the people said, there is the need for them to partner with government for general growth and development.
He said, "As an engineering association, I want you to do more than this because there are some engineering solutions that ought to be recommended for government for better improvement of the society and general well being of the masses.
"You must be part of progress in giving recommendations that would improve the condition of our roads and thereby prevent the avoidable accident and destruction to the lives of the people in the community.
"Always help government to solve problems that confront society. Try to let people and government know that you care about their welfare by either quickly draw their attention before such development becomes a threat or danger to life or even in preventing the development of a threat, you support.
"Let your method of showing concern about the welfare of the people be totally improved in finding solutions to society and community challenges.
He therefore assured members of the Nigerian Society of Engineers, his government's support, adding he would personally do all necessary things to revamp the site for general well being.
He added, "We will partner with you once the Ministry of Home Affairs, Tourism and Culture gets through with other aspects of the projects.
"Once necessary researches and findings are done, we shall look for how to implement your infrastructural proposal to make the site a memorable recreation centre that will attract visitors around the globe.
Earlier, the Chairman, Committee on the Design of Kiriji Road Networks, Engineer David Sola Oni, commended the state government for living up to the responsibilty in spite the nation's dwindling revenues.
Engineer Oni who described the tremendous achievements recorded in the last five years by the current government as inestimable said, Governor Aregbesola has exhibited his rare passion in all aspects of the economy.
He extolled the significant successes and memorable legacies which he said the present government had successfully made, assuring Governor Aregbesola of utmost commitment, dedication and avowed determination towards the successful actualization of the projects.
Engineer Oni who gave a comprehensive background on the report that produces a map of Kiriji war site at Igbajo and Imesi-Ile, said the war site had farmlands, and various war relics such as spear bullets and other weapons used during the civil war.
He elucidated that the site was the location of war treaty signing in September 23, 1886 between Ibadan and its affiliates and Ekiti Parapo and its affiliates.
Engineer assured that an extensive research and finding had been done on the site, saying the time has come to revival the history and turn the site to a place to be in the world.
He buttressed his point with scientific analyses where the war locations were technically revealed and analyzed.
According to him, "The war locations include: Aga-Ogedengbe, a stone seat of Ogedengbe and Latoosa's camp at Igbojo.
"Others are; Okuta Orunorunga, Latoosa stool, Fejeboju Stream, Latoosa Grove and the peace treaty site", he stated.
Engineer Oni therefore urged the state government to urgently expedite action that would fast-track quick implementation.
He disclosed that about 5killometers of roads network would be constructed across the War site, saying adequate implementation of infrastructures around the site would go a long way in positioning it to the vantage place.
Engineer Oni therefore assured the state of effective and efficient implementation of both cultural and infrastructural designs as being promised.