I Will Complete All Ongoing Projects – Aregbesola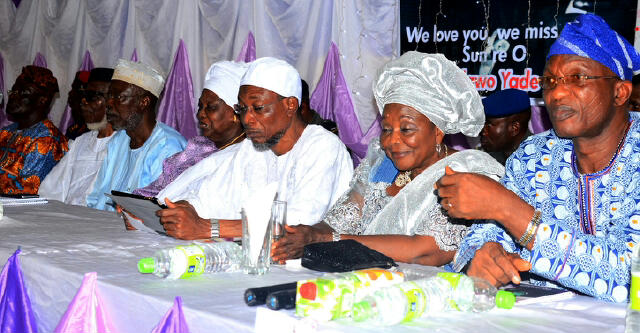 …Charges Politicians On Honesty, Humility
Governor State of Osun, Ogbeni Rauf Aregbesola has reassured his administration's commitment to ensure total completion of all ongoing projects in the state.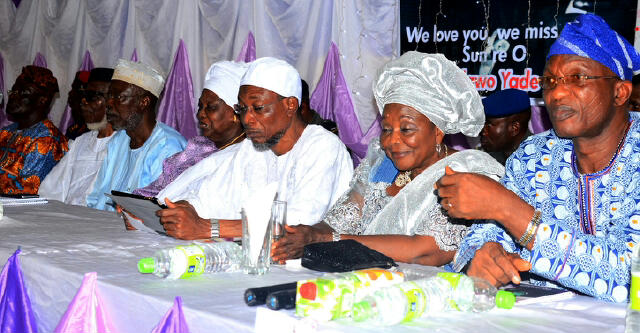 He pledged that in spite the current economic hardship in the country and Osun in particular, his government would not be derailed on its pro-masses policies calculated to turn around the state for the better of the citizenry.
Governor Aregbesola stated this in Osogbo while speaking as the Special Guest of Honour, at a lecture organized in honour of late Chief Ayo Ojewumi, a Former Commissioner for Agriculture & Natural Resources, in the Old Oyo State, during the administration of Late Chief Bola Ige.
Aregbesola who attributed the slow pace of some of the ongoing projects to what he described as little or no revenue from the Federation Accounts to the state.
In his bid to avert further economic imbroglio, Governor Aregbesola disclosed that his government has taken an effective cost measure which according to him would reduce drastically the cost of governance in aspects of the economy.
He stated further that his administration has successfully implemented belt-tightening mechanism which he described as a panacea to stunted economic growth.
Ogbeni Aregbesola who described politics and democracy as real mirrors for development, however called on politicians in the country to be the symbol of development and demonstrate high sense of commitment to the people's plights.
He also charged politicians to let honesty and sincerely be their watchword in whatever they do, saying the virtues of "Omoluabi ethos" must be prioritized by any leader.
Speaking further at the lecture which had as its theme :- "The Role of Journalism in Modern Nigeria Politics", Ogbeni Aregbesola described Late  Chief Ojewumi as an astute politician per excellence, noting that politics is something that should be practiced with the utmost spirit to serve the masses based on loyalty and truthfulness.
Aregbesola said both leaders and followers must demonstrate genuine leadership and followership qualities that would retain and entrench the confidence reposed in them by the people.
He stressed that leadership positions ought to be handled in a way that the person will not be forgotten just like the late Chief Ojewumi.
Aregbesola also described politics as a worthy legacy that could be passed along to the younger ones inasmuch as  the leaders practice it with the spirit of service to humanity and the need to impact positively on the electorates who are looking onto those in government for good life.
He added, " a good name is the only thing that can not be forgotten, I don't know the late chief Ojewumi, I have never met him, but I am here today because of the good deeds that I read about him.
"Nobody will ever be forgotten if such person remains loyal and humble to his political leaders. If you want to be remembered for good you need to be truthful and honest.
"If you are not a persevering person, you are not likely to make an headway in politics, politics does not allow for an impatient and over ambitious individual. Whatever responsibility being given to you should be done with all sincerity.
Governor Aregbesola however reiterated that he would not rest on ensuring adequate protection of the people's lives and property, adding that his government would continue to build much more on the effective and efficient security template which he regarded as a tool for security consciousness.
He therefore urged the residents of the state to be security conscious at all times, advising to always look for protection and cover-up whenever the  sound of gunshot is heard instead of approaching the scene of such incident.
Also Speaking at the event were, the Former Nigerian Ambassador to Philippines, Professor Yemi Farounbi who was the Guest Lecture; the Olufon of Ifon-Osun, Oba Abdumalruf Magbagbeola, among others.