Osun firm nets N2.2trn from gold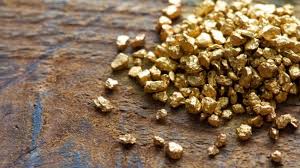 As the Minister of Solid Minerals, Dr. Kayode Fayemi, has given indication that the Federal Government will soon extend to other solid minerals the backward integration policy on lime stone that transformed Nigeria from a net importer of cement to net exporter in less than 10 years, a geologist at the Obafemi Awolowo University, Ile-Ife, Osun State, Dr. Abraham A. Adepelumi has said that one single company exploring gold in the state netted N2.2 trillion in one year. Adepelumi, who spoke at the first New Telegraph Newspapers Economic Summit, in Lagos, on Thursday, stressed the need for immediate commencement of exploration of the over 44 solid mineral deposits in the country.






According to him, diversification of the economy into this very rich sector would hasten the rebound of the Nigerian economy which has been stressed by dwindling revenue from oil. Speaking on the topic: "Nigeria Beyond Oil: Opportunities in Solid Mineral Resources", he said that Nigeria is endowed highly with several minerals that include coal, gold, tantalite, bitumen, galena, sphalerite.
"These minerals have transformed the economic landscape of some countries. These minerals have to be mined in order to contribute significantly to the economy. Nigeria has an enormous amount of solid minerals which can be harnessed for our economic well being.
These minerals have remained untapped over the years. "Nigeria is endowed with the solid mineral sector. We have well over 44 mineral types both on occurrence and deposit scales. Occurrence means you have discovered but not done further works to prove if it is economic or not. So, we have minerals at both scales in over 800 locations in the country.
There are still hundreds of places of these minerals that haven't been discovered. Of the 44 types, at least 20 are of economic value." Adepelumi added that the extensive exploration and evaluation of mineral deposits in Nigeria from the colonial time to date by the geological survey of the country, has revealed mineral deposits across the whole nation and has recently been compiled state by state in various researches conducted by experts He said the mineral wealth extraction would lead to job creation, production of raw materials and commodities for trade, and significant revenue for development, if well-managed.
He alluded to one Segilola Gold Limited, a gold exploration company with operational base in Osun State which exports over 620,000 ounces of gold annually which amounts to over N2.2 trillion turnovers as an indication of the amount of money which can accrue to the country from that sector.
Adepelumi added that bearing in mind the fact that gold and several solid minerals deposits abound around Zamfara, Kebbi, Niger, Kwara and Osun axes, immediate exploration of these, coupled with useful rail line as means of transportation will return Nigeria to the good old days of a buoyant economy.