Ikoyi Goes Agog For Osun-Ikoyi Festival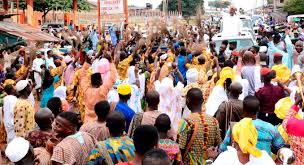 The ancient town of Ikoyi-Ile in Isokan Local Government Area of the State of Osun was thrown into a wild jubilation yesterday as the people of the town celebrated this year's edition of Osun Ikoyi festival.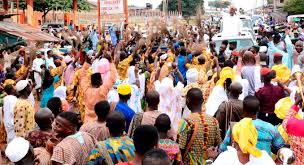 As early as 7am, thousands of people which included natives and foreigners had besieged the Palace of the Olukoyi of Ikoyi, Oba Yissau Bamitale Otunla Kodaolu I, to felicitate with him on the celebration of yet another Osun festival in Ikoyiland.

The procession to the Osun shrine started at 2pm when the Olukoyi accompanied by his Chiefs and thousands of his subjects and visitors led the procession to the Osun shrine.
Oba Yissau Oyetunji Otunla Kodaolu I and the procession stopped at traditionally designated places to offer prayers to the ancestors before finally going into the shrine where propitiations where made to the Osun goddess.

While addressing the people, the Olukoyi prayed for the success of Ogbeni Rauf Aregbesola's administration in piloting the affairs of the State.

He particularly eulogised the efforts of Governor Aregbesola especially at promoting traditional festivals as a way of preserving the Yoruba cultural heritage as well as showcasing them to the outside world.
The Olukoyi appealed to the State Government to lend more helping hands in the celebration of Osun Ikoyi to make it a meaningful venture for income generation to the State.

Oba Otunla pledged the support of Ikoyi sons and daughters to the government of Ogbeni Rauf Aregbesola's administration.
In spite of the huge crowd that witnessed the festival there was no case of lawlessness or chaos which gives credence to the fact that Ikoyi people imbibed the Omoluabi ethos for which the State of Osun is known.