Women Empowerment: Group Trains 300 Persons In Osun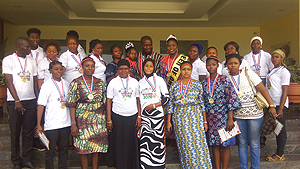 A non-profit organisation under the aegis of United African State has trained 300 craftswomen in Osun State, in areas such as bead making, fashion designing, batik, tye and dye among others, with a view to making them self-reliant.
Speaking on the objective of the organization, Ambassador, Nurudeen Ogunlade, said the initiative was designed to empower the women economically as a strategy to reduce poverty in the society in line with the vision 2020.



Ogunlade said the women drawn from all the 30 local government areas in Osun state, have been equipped with different skills and that they would also be exposed to international markets to sell their products.
He added that his organization in collaboration with another group known as All Work of Life (AWOL), is assisting Osun women on capacity building and guiding them through the business side of their trades.
Ogunlade said his organization also plans to cultivate the women to be advocates of world peace, free expression, environmental harmony, universal human love and appreciation of native culture.
He said the women in Osun would also be mobilised and encouraged to lend their voices to the war that has been waged against corruption and corrupt individuals by the administration of President Muhammadu Buhari.
Ogunlade then went ahead to commend the Osun State Governor, Mr Rauf Aregbesola, for the massive infrastructural development in the state, particularly in the aspect of road constructions, newly built schools and other projects that targeted the women and children in the state including the school feeding programme.
He however disclosed that out of the 300 women that participated in the training, 20 would be taken to a Business Expo Exhibition in Belize, near Cuba in Central America, to showcase their made in Nigeria products.