Osun Indigenes Commend Aregbesola For Resurrecting Train Service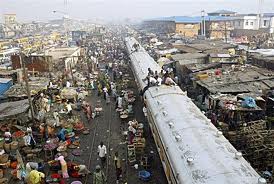 Osun State indigenes living in and outside the state have commended Governor Rauf  Aregbesola for his commitment to improve railway system in the state, as a means of transporting goods and services.
Indigenes of the state, who returned to the state from Lagos, Ilorin and Ibadan, through railway system last Friday and Saturday, expressed their happiness on the improvement on the use of train in the state.
The travelers said traveling by trains has lessened the cost for transportation, saying that they spent lesser money using the trains, when compared to traveling by commercial buses.
According to a resident of Ikotun in Lagos State, Alhaja Rafiat Ademola, there was an improvement in the use of trains, saying that many people traveled to Osun State by trains for the Eid ElKabir festival.
Ademola said; "I noticed that more trains have been coming to Osun and other states like Kwara. I decided to travel by train when I discovered that traveling by rail was cheaper than patronising commercial buses during the festive season.
For instance, I was charged N2500 for my transportation and luggage fee at a motor parkat Ikotun, Lagos, while trying to come to Osogbo by bus. I later decided to travel with the train when I could not bear the bus cost. I paid only N500 for my transportation".
She therefore commended Aregbesola for resurrecting the use of train in the state, maintaining that road accident would be reduced with the use of railway system of transportation.
Speaking with OSUN DEFENDER at the Railway Station, Old Garage, Osogbo, a resident of Ilorin, Kwara State, Mr Abdul-Rahman Oriola, also called on the Federal Government to commit funds to the rehabilitation of railway system in the country.
While commending Aregbesola for his commitment to resurrecting train usage in the state, Oriola said travelers would spend less, while traveling by train.
Source: http://www.osundefender.org/?p=22324