Osun list gains of investment drive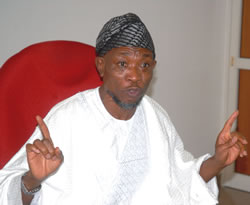 The enhanced infrastructures coupled with a conducive and ideal investment have attracted both domestic and international investors to Osun State.
With these, three investors; namely RLG Communication (a telecommunication/electronic company), Omoluabi Garment Factory and a Chinese company that will produce Opon Imo have already been attracted to the state.
Governor Rauf Aregbesola disclosed this while speaking with Journalists in Osogbo.
The governor also told newsmen that huge achievements were being recorded in the aviation sector with the ongoing airport being constructed in the state.
He said: "The airport project is not being built for the sake of having an airport alone. It is a project embarked upon to attract investment to the state. We can tell you now that we have signed a hanger facility contract agreement with two companies. When completed, the helicopter hanger facility would be the first in West Africa. By all these we plan to make the airport the aircraft hub in Nigeria."
While saying that his administration was irrevocably committed to the ongoing transformation of Osun into a modern state, Aregbesola noted that it would stop at nothing at ensuring the successful completion of the ongoing urban renewal and beautification projects in nine cities selected for the urban renewal project.
The Governor said, "Every Nigeria deserves to live well anywhere they find themselves. All Nigerians must live in comfortable stead irrespective of where they are their ethnic or religious leanings.
He also disclosed that government intervention in education has started yielding dividends as the state now has the highest rate of primary school enrolment in the whole country put above 80 percent, adding that the state equally leads 35 others with the highest number of female enrolment in the same tier.
According to him, various policies of his government have also reduced poverty in the state to a meager 3.0 percent, the lowest in the federation by the figure released from the National Bureau of Statistics.
"What I can categorically tell you is that every step we take is tied to the lofty idea of making Osun to be self-subsisting and self-sufficient socio-economically."
Source: http://businessdayonline.com/2013/08/osun-list-gains-of-investment-drive/