Osun Youths (First Batch) Leave For Germany For Advanced Food Production Technology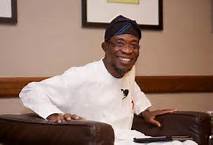 Efforts by the Governor of the State of Osun, Ogbeni Rauf Aregbesola to achieve agricultural development through collaborative efforts have yielded fruits as the first batch of 20 youths chosen for training in best practice agriculture abroad are to depart for the State of Saxony-Anhalt, Germany, next week.
Already, the youths were last Friday at the Conference Room of the Ministry of Agriculture and Food Security, Osogbo, taken through an orientation programme handled by different level of experts in health, information and communications technology and ethical trainings.
Topics treated included "Food, clothing, medication and health insurance in Germany: Implications for first-time and non-frequent travelers" and others based on the concepts of virtuous living and the Six-Point Integral Action Plan of the Aregbesola administration.
Governor Aregbesola, who is expected to counsel the youths on Monday before their final departure had last year, secured the collaboration of the German State of Saxony-Anhalt to train a total of 40 youths in Germany in the best agricultural practices for the achievement of his administration's food security programme.
The collaboration between the State of Osun and the State of Saxony-Anhalt in the Federal Republic of Germany was achieved during the maiden week-long visit of Governor Rauf Aregbesola to the European country in May 2012.
German authorities have issued visas to the youths to facilitate their trip to Europe under the auspices of Governor Aregbesola's Quick Impact Intervention Programme (QIIP). Upon arrival in Germany, the youths are to spend an intensive period of four weeks in formal agricultural training school where they would be taken through the rudiments of agriculture and food crop production techniques.
After this, the Osun youths are to be attached to 11 large scale co-operative farmers in the State of Saxony-Anhalt in Germany where they are to spend the last eight weeks in learning and building on the assessed capacities and interests of each of them. In furtherance of this collaboration, the German government had sent language and Agricultural Implements and Terms Proficiency expert who arrived Nigeria and began work last January 3 and trained the youths till June, 2013.
The training was to prepare the youths for their study periods in Germany as well as introduce them to some of the assignments they would be expected to undertake abroad. Apart from their training in agriculture, the youths would also serve as middle level link between the German experts and the State of Osun when the German Best Practice Demonstration Farm takes off.
This is the product of the collaboration put in place by Governor Aregbesola and the German government of the State of Saxony-Anhalt when he visited the European country last year.