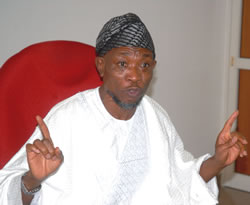 UPDATE: Applauds as Aregbesola meets grass root people

Following the interactive public feedback session titled 'Gbangba D'ekun' by the Governor, Ogbeni Rauf Aregbesola, there have been reactions from people of the state.
The programme which witnessed hundreds of people across Iwo local government had students, teachers, artisans, traders and civil servants in attendance.
Mr. Abdulateef Olaitan Arewa, a civil servant said, "the programme is another beautiful idea to meet the real "grassroot" people in the State" adding that it is devoid of partisan politics; he also noted that "I will prefer if this kind of interesting programme can be on weekends so as to carry the elites along to further sensitize those who speak ill of the administration of Ogbeni Aregbesola."
Alabi Caleb Olatunji Aregbe in his opinion described the present State Government as the most vibrant and administratively clairvoyant Governor in the whole of the nation. "I stand to be corrected, the facts are there for everyone to see", he added.
Similarly, a health official in the state, Mr. Taoheed Ademola OmoOmi said the initiative by the government to meet those at the grass root is a clear indication as to why the people of the state adore the governor. "For a Governor that makes himself available to his people at anytime, truly Ogbeni Rauf Aregbesola is the man of the people", he added.
Well done Ogbeni!