RLG Graduates 5000 Youth In Osun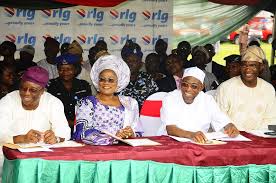 A total of five thousand youth who successfully underwent an intensive training in ICT, Mobile phone and computer repairs and assembling in the Nigerian state of Osun have graduated at a ceremony in the state capital Osogbo.
The ceremony was attended by an array of high profile dignitaries including the Osun State Governor, Chief Engineer Rauf Aregbesola, his deputy, traditional rulers, representatives of labor unions as well as officials of the ruling party in Nigeria.
The training is part of a partnership agreement between Rlg Communications (Nigeria) Ltd and the Osun Youth Empowerment Scheme Technology (OYESTEC), a state sponsored initiative to make the youth economically resourceful.
Under the partnership, RLG Communications is contracted to train 20,000 youth in the Osun state alone on ICT related disciplines such as mobile telephone assembly and repair, computer technologies and entrepreneurial skills, with each training lasting for a 6 month period.
The training took place at 9 centers dotted across the state.
Governor Engineer Rauf Aregbesola who spoke on the topic "marching onto greater heights" justified the institution of the initiative saying he will continue to offer it the needed support until youth unemployment has been eliminated completely or drastically eradicated in his state.
He explained that Ghana's RLG Communication was selected for the contract in view of its "enormous track record in delivery as well as their capacity" and commended the company for doing good job so far.
The Chairman of Osun State Youth Empowerment Scheme, Price Adefioye and the scheme's Co-ordinator, Bamboo Bashorun commended the state governor for keeping alive the quest to ensure total economic transformation of the Osun state and its people especially the youth.
The Country Director of Rlg Nigeria, Tosin Illesanmi said work on a multi-purpose ICT Assembly Plant sited in the Osun State was progressing steadily and commended the governor for his immense support for the project which when completed will produce 5,000 mobile phones and 2,000 laptops on daily basis.

"One of the key mandates of RLG was to revolutionize Information and Communications Technology in Africa and create one million jobs for the youth in the world," said Country Director of RLG for Nigeria, Mr. Tosin Ilesanmi said.
The graduate trainees expressed appreciation to the State Governor and RLG for giving them the opportunity to be trained. They were presented with certificates.
The training program adopts a comprehensive training strategy which is both instructive and participatory. Actual repairs, servicing, maintenance and assembling of mobile phones, computer technologies (desktop and laptop) and other electronic equipment are some of the areas of training.
It is intended to help government to maintain local content creation and ease incidents of youth restiveness in Nigeria, especially in Osun State where the training is taking place.
The aim is to create and empower as many as 20,000 youths, within a period of 24 months that will work in service centers that would be set up in different locations in Osun State.
The centers would be manned by over 1000 of the graduates who would serve as RLG service repair and sales personnel.
GHANA WEB