'Women As Pioneers Of Change' – Deputy Governor, Osun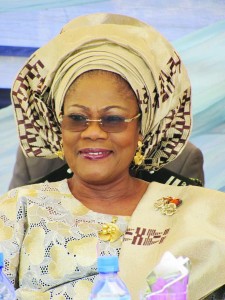 The Deputy Governor of the State of Osun, Mrs. Grace Titlayo Laoye-Tomori, continues to urge women to stand up for change and be front runners in implementing same.
She stated this in Ibadan, Oyo State capital, at the 2nd National Women Summit, with the theme, "Women as Pioneers of Change", organised by the Oyo State Officials' Wives Association led by wife of the Oyo State Governor, Mrs. Florence Ajimobi.
Tomori charged women to continue to push for change in the nation's current political structure and be active participants in the political trend.
"For me, the role of women begins in the collective resolve to build together the social foundation upon which the modern political participation of the society will be based", she said.
"Our foremost task as women is to identify the disabling factors in our present social condition of living, and move to remedy such situations. We need to launch and relaunch repeated assaults on socio-cultural inhibitions, norms and values that have held the female gender down from time immemorial".
Describing women as crucial in every sector of the nation's economy, Laoye-Tomori called on major stakeholders to improve on their efforts in mobilizing and sustaining women's rights through grass-root participation.