Aregbesola Explains Education Reforms To CAN Leaders As New EXCO Get Sworn-In In Osogbo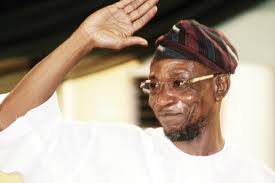 The Governor of the State of Osun, Ogbeni Rauf Aregbesola, on Thursday told Christian leaders that his administration would relentlessly explain the essence of his administration's reforms policies and programmes on education until all the dissenting voices sea reasons why the rot in education must be halted.
He also said his administration's policies are not tailored towards suiting any particular group, noting that fairness is at the centre of all the programmes.
Aregbesola, who spoke before the umbrella body of Christians, the Christian Association of Nigeria at the swearing in ceremony of the newly constituted executive of the association in Osogbo, the state capital, urged Christian leaders both within and outside the state not to put religion to negative use.
In his speech, titled: Empowered for Service, Aregbesola, who was represented by his Deputy, Otunba Grace Titilayo Laoye-Tomori, stated that Osun has enjoyed peace since the inception of his administration due to the demonstrated equity among people of all faiths; people-focused programmes that take care of the interest of all regardless of their religious beliefs.
Aregbesola told the Christian leaders, "Let me restate it here again that our government will never be found guilty of privileging any group above another. The state belongs to all of us. The mandate I was given applies to all people, all gender and all faiths. I am fully determined to defend this with all that it pleases the good Lord to give me. Government's programmes will fail where they are meant mainly for a group, rather than for all the people. We will never compromise on our resolve to make Osun a thriving hub of socio-economic development. This is possible when all groups work harmoniously together."
Speaking on the on-going reform of education in the state, Governor Aregbesola said the criticism against the reforms were understandable noting major reforms that would halt the rot in the education sector would generate apprehensions.
He said further, "In recent times, there have been vibrant exchanges between us over the reforms we are carrying out in schools. Let me assure you that these reforms are without malicious intentions.
"I am quite aware that revolutionary changes of this nature will surely bring some discomfort. The first generation of educated citizens of this country was produced by Christian missions, mostly. You will agree with me however that the state of our schools when our administration came on board on November 27, 2010 was not what you could be proud of anymore. On this, our purpose and goal (to provide education for the total man in spirit, soul and body) are coterminous.
"We only have differences on the path to take. We can easily maximise our areas of agreement and work closely on our differences in an atmosphere of mutual respect and understanding.
"Let us avoid name calling, confrontation and making false and unfounded accusations that are capable dividing our people, creating tension and heating up the polity."
Speaking with journalists shortly after the event, the Commissioner for Finance in the state, Dr. Wale Bolorunduro, said Christians have no reasons to be apprehensive over Sukuk, which he said is a normal bond like any other bond around the world.
"The only difference is that the interest rate on Sukuk makes it the most development-friendly financial instrument in any part of the world now.
"Yes, its name sounds Islamic but it is being regulated under the same capital market culture in Nigeria. Above all, the proceeds from Sukuk will finance massive capital projects that people of all faiths will benefit from."
Aregbesola said he needed the prayers of all Christians just as those of people of other faiths for his administration to come up with more legacy projects that will in no time make Osun the pride of the Black race.