Eid-al-Adha: Aregbesola Extols All To Come Together And Forge A Harmonious Relationship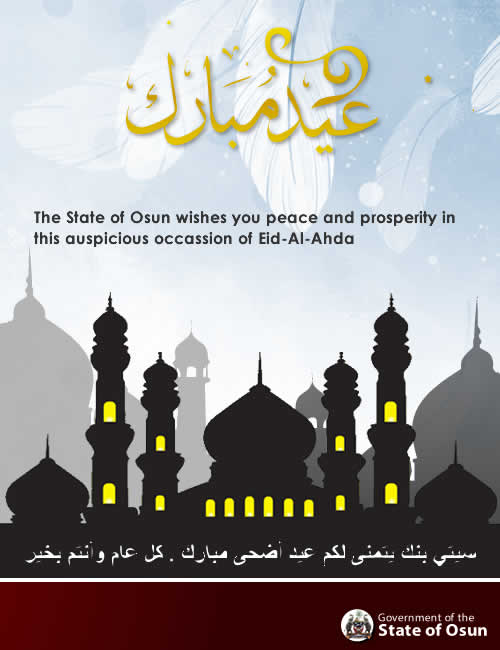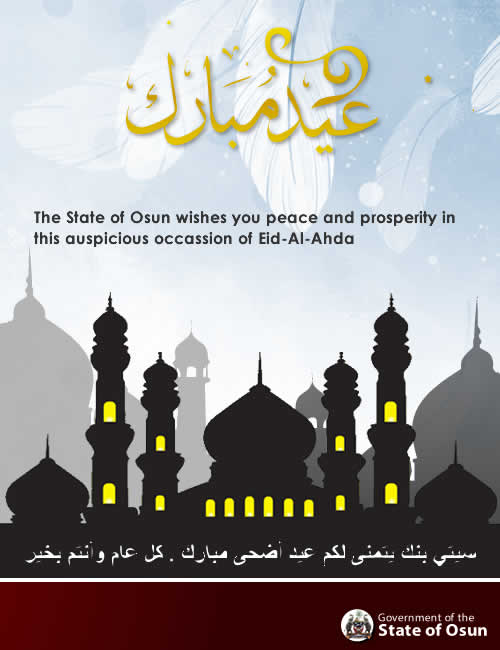 Governor of the State of Osun, Ogbeni Rauf Aregbesola, has called on all adherents of Islamic religion to live in peace and exhibit religious tolerance towards people of other faiths.
Aregbesola, in a statement signed by the Director, Bureau of Communications and Strategy, Mr. Semiu Okanlawon, said what the nation needs at this critical moment is peace, security and cooperation among the diverse people of the country.
The governor called on adherents of all religions to uphold the sacredness of human life, saying God did not command or appoint anyone as judge in all of the revealed scriptures to take the life of another in the guise of protecting any faith.
Aregbesola said he wondered why any reasonable and rational human being should exhibit such cruelty to a fellow human being by either killing or maiming.
The governor also advocated for good governance, purposeful leadership and prudent management of resources as necessary preconditions the leaders of the country must cultivate as measures of curbing the worrisome trend of deterioration in nearly all spheres of the nation's life.
He identified corruption in high places and divisive tendencies among ethnic groups in the country as disease which we must cure completely for us to get our development agenda right.
The governor said political leaders and followers, religious leaders and their adherents; all must come together and forge a harmonious relationship for the love of their country, saying according to Prophet Muhammad (SAW), the love of one's country is part of faith.
"It sometimes baffles me that religions, which should unite a people are acting as catalysts to divide us in this country. I wonder why people must kill each other in the name of religion.
"As Muslims, we are not to judge our fellow man. We should leave judgment to God who created us all. Why must people kill in the name of God? Why must people act God? Why must they pre-empt what their creator will do?
Muslims must be tolerant, trustworthy, dependable and peace-loving wherever he lives. He must be a beacon of peace and sterling example of humankind worthy of emulation.
"People must put an end to violence, killing and mindless blood-letting all in the name of religions, and embrace peace and coexist peacefully amongst themselves wherever they reside," Aregbesola said.
He called on the Muslim faithful to emulate Prophet Ibrahim and his son (Ismael), whose unshaken belief in, perseverance and fulfilment of their promise to their creator earned them salvation, everlasting and divine compensation and glory till today.
He enjoined the people of the state to live in peace and extend hands of fellowship to their neighbours so as for the peaceful and tranquil atmosphere the state has been enjoying in the last two years to continue unhindered.
Quoting from the Holy Qur'an Q41 v 46, "Whoever works righteousness benefits his own soul; whoever works evil, it is against his soul: nor is thy Lord ever unjust to His servants," Aregbesola said the pursuit of truth and justice at all times should be the watchword of those who hold the affairs of the nation in their hands."
He added that oppression, inequality oppression, wrong-doing, defying right and justice, transgression beyond the bounds of God on earth are the bases of problems confront the country, urging Nigerians, in the spirit of the festival, to rededicate themselves to the cause of serving the country and humanity as a whole.
He prayed that the Almighty God in His infinite mercies would assist the country by endowing the leaders the divine guidance needed to steer this country aright.