Osun Ministry Of Justice Presents 2013 Budget Performance Report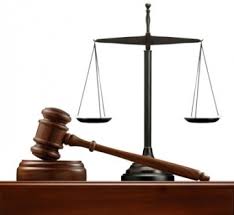 Attorney General and the Commissioner for Justice, Hon. Wale Afolabi has presented the score sheet for the year 2013 budget to the State of Osun House of Assembly on behalf of his Ministry.
The Commissioner, who was accompanied by the Solicitor General and Permanent Secretary, Mrs. Abiola Adewemimo, political appointees and principal officers in the ministry, stated that, the Ministry has scored 71 percent expenditure and 57.78 percent on recurrent expenditure.
He also claimed that the Rent Tribunal has increased from two (2) to nine (9) making it one tribunal for each constituency to facilitate speedy trial and timely judgment. In addition, eighteen (18) Magistrates were appointed and seventeen state counsel were employed through the Civil Service Commission.
He further stated that the ministry's library is under rehabilitation with the aim of upgrading it to E-library. This will be ready for commissioning anytime from now.
Chairman House Committee on Budget and Appropriation Hon. Kamil Oyedele commended the Attorney General and his team for the fantastic report and also implored them to improve in their activities.
OSUNNEWSPORTAL