Osun Workers Restate Support For Aregbesola's Second Term Bid ….Lists Gains Of Workers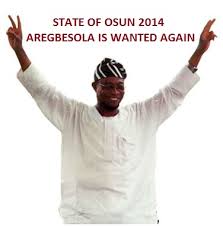 Workers in the State of Osun have once again restated their endorsement of Governor Rauf Aregbesola for a second term bid to occupy the Bola Ige House, sit of government in the state.
The second term backing was reaffirmed by the Chairman of Trade Union Congress (TUC), Comrade Francis Adetunji at the third edition of the public forum tagged Gbangba Deku, at Ile-Ife, Osun East senatorial district of the state.
Adetunji, who spoke on behalf of the workers, said all labour unions in the state have formed a united front to actualise the 'come back' dream of Aregbesola because workers have never had it so rosy under any government as they are having it with the current regime.
Adetunji said in the history of the state's government-labour relationship, Aregbesola's administration is the first that perfectly understood workers' needs and cater to them as and when due.
"For the first time in this state, workers are happy and feel safe that their welfare would not be neglected or jeopardised by a government. Aregbesola's government understands workers' needs and takes care of their welfare.
"He quickly responded to our requests and wishes when workers in other states still had problems with their state governments across the country," Adetunji said.
The labour leader stated that it was the Trade Union Congress that first endorsed the second term ambition of Aregbesola on May 1st 2013 before other associations, interest groups and other associations followed and are till following labour unions' footsteps.
He said that the public forum is the first function workers would follow government to its programme, saying this solidarity is a testimony of the love, trust and support workers have for the government.
Aregbesola, according to Adetunji, runs a transparent, responsible and responsive government, saying whatever his (Aregbesola's) administration promises he go to any length to make sure such promise is fulfilled.
He continued: "Workers' unions are now one united front and we are behind the government of Ogbeni Rauf Aregbesola.
We will not waver until the second term is achieved. Our watchword is: 'Second term; No shaking,'" Adetunji said.
He promised on behalf of the workers that wherever government is going from now on, labour is ready to follow.