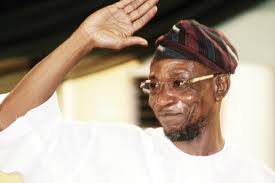 SPEECH: Nigeria Will Still Be Great – Governor Rauf Aregbesola
I congratulate Nigerians on the 53rd anniversary of our nation's independence. But as we celebrate, we must also take time to reflect on the state of the nation. The Nigerian project is a bold experiment in nation-building. It is an experiment that has proved to be a challenging undertaking. But, for me, building Nigeria is an experiment that is well worth the attempt.
At independence, on this day in 1960, Nigeria was a country full of high hopes, and good prospects, with its diverse peoples filled with aspirations. But somewhere along the line, we got it fundamentally wrong, with the consequences that, today, 53 years on, we are still struggling to get the basics right. The country is faced with tough difficulties and mortal dangers on multiple fronts. Our efforts at nation-building are being affronted by manifold crises of under-development – bad governance; poor planning; industrial collapse; decay of basic infrastructure; socio-economic backwardness; political instability; insecurity; widespread poverty; social, ethnic and religious tension; high incidence of crime and criminality; and terrorism among many other woes.
These are undeniably serious setbacks to our development march; but they do not amount to any permanent incapacity for us not to move forward. Indeed, setbacks are necessary but temporary impediments along the path to progress. Therefore, I am at one with American entrepreneur, Les Brown, who counselled that: 'Anytime you suffer a setback or disappointment. Put your head down and plow ahead'. Hence, I remain convinced that the Nigerian project is a viable one. And I am optimistic that we may yet get it right as a country; and convert our much vaunted great potentials into actual benefits for our people. All we need is sound leadership and good governance.

Indeed, our story on the independence path has not been doom and gloom only; it is also strewn with bright patches and shades of greatness. We have had sporting glories, a Nobel Prize in literature, representation in the top universities in the world and a Nigerian got in the Forbes 100 top list. For the most part, we groan so much at the cup being three quarter empty that we forgot it's also one quarter full.
As someone in leadership position, I set my sight firmly on the promises the future holds and the opportunities that our great country can offer. My aspirations are for Nigeria to be able to overcome its development challenges, and to become one of the top 10 economies in the world in the shortest time possible. But we need to work towards achieving these goals. As a matter of urgency, we must shift our economic paradigm from sole dependence on oil towards productive diversification. Agriculture is a viable alternative here. We must develop our agriculture towards achieving food security. We must give primacy to food production as a strategic national imperative, for it is a sure basis for sustainable economic development.
Indeed, pursuing food security as a strategic value goes beyond merely feeding the people. Food security is a core pillar of national security. No nation can have genuine national security without food security. Therefore, if we make food security the driving force of our agricultural development, the accompanying spin-offs it will generate can only add greater value to our overall economic development efforts.
My conviction about agriculture as a viable solution to our unemployment problem lay in the fact that, an agricultural economy that is grounded in food production cannot fail. People can give up luxury items if occasion demands it. But for as long as we remain human, we will eat; food is a biological necessity! Luxury item are a matter of choice. People for instance can very easily forgo chocolate; but it would be hard to imagine them forgoing staple food like rice or potato. Food security is an essential condition for national security.
Related to this is the need to gainfully and meaningfully engage our youths by creating jobs and employment opportunities. Our present chronic youth unemployment situation is a potential source of social explosion. There is profound wisdom in productively engaging our youths. Young people are some of society's greatest assets; but they can also be a major source of its problem. In Nigeria, youths constitute the bulk of our productive population, and that bulk is overwhelmingly unemployed! In other words, we have a potentially advantageous youth bulge in our population, which could also be turned into a bug by prolonged lack of employment.

Young people are energetic, talented, innovative, aspirational, and daring. These are good qualities for economic enterprise. We only need to be creative to harness them for the rapid socio-economic transformation of our country. Again, agriculture presents enormous possibilities in this regard. Our huge population offers immense opportunities as a market, and for massive job creation, that can absorb our teeming unemployed youths, and help in eradicating poverty.
Another area of great promise is information and communications technology. ICT also offers enormous possibilities for creating jobs and for meaningfully engaging our youths. After all, ICT is a field that is not only a product of innovation, it is driven by human creativity. Innovation and creativity are an area of strength for young people. They will have their imagination taxed and their minds energised. It can help focus the vibrant energies of our youths on positive development. In addition, it is a fertile area of almost infinite possibilities where the only limitation is the human imagination. Again, all we need do is to get our acts together; think and organise so that we can make the most of the opportunities available to us.
Essential to modern life and any economic endeavour is power, but this is an area in which the nation has been badly struggling. The circa 4,000mw the nation produces is a huge joke. This, when the economy is in full throttle, cannot even serve the Ikeja business district. Admittedly there have been great efforts at addressing the problem but they have amounted to little. This is the time to discard the old approach and tackle the problem of power squarely. We must be jolted by the realisation that without sufficient electric power, all other efforts will come to nought.
I am not trying to make light of the formidable challenges involved in making a success of the Nigerian project; my point is that the difficulties are not an excuse for failure. In fact, they are a compelling reason for us to try to overcome them. I am an unflinching believer in the assertion of George Bernard Shaw that '[t]he only real failure in life is the failure to try'. It is in our utmost interest not to fail to try. Success is only born of trying, and I am in no doubt at all that if we genuinely keep trying, we shall surely overcome.
October 1st of every year offers us the opportunity to review the journey of nationhood and to come to the awareness that just as we have the prospect of greatness, so also are we faced with the grim possibility of tipping over the brink; the probability of outcomes now depends on the choices that we make. It is my fervent hope and prayer, however, that we will always make the right choices and realise our greatest potential.
Once again, I congratulate us all and wish us happy independence celebrations