'Why We Are Investing In Culture And Tourism' – Commissioner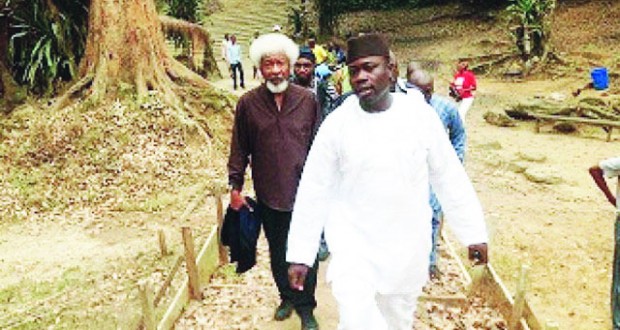 Ayedun Sikiru, the State of Osun's Commissioner for Culture and Tourism, is a chartered transporter and maritime expert. He believes that tourism can boost the state's economy. In this interview, he explains the government's efforts to make Osun a tourism haven, among other issues.
The government of the State of Osun is investing N5.7billion in tourism. How far have you gone with this?
The investment, N5.7billion, that is our target and you know that taking N5.7billion out of Osun revenue is a huge money, so what we intend doing is going into public-private partnership with serious investors, but we know that getting this done, you know what the status of our tourism, getting this done in the state might not be attractive but what we intend doing now is to get a pilot scheme that will take little intervention into all our tourist sites to the level that it will be very attractive for the investors to come and partner with us.
Talking of post investment period, do you have the facilities and resources to cope with the traffic of people you are trying to attract?
That is why we are having infrastructural developments ongoing in this state. Not just roads, our hospitality sector is also growing because we know that for tourism to develop you have to successfully work three areas of life: You must have good roads, the hospitality industry must be fantastic and security must be extraordinary and these are the things the state government is really working on.
If you have gone round the town, you will see the level of infrastructural development, you will see that we are gauging the standard of our hotels, we are working on the hygiene of all our eateries, also on the issue of security, we are working round the clock to make sure we have a peaceful and accommodating environment in terms of police coverage, in terms of fire services, in terms of health, in terms of cleaner environment. These are the things that complement tourism development.
We have envisaged that with the investment, if we are looking at the influx of tourists in the state, to any part of the state, we need a lot of facilities to cope with and we're already working on this.
Hotels in the state are privately owned. What actually is the government doing about this?
Yes, what we are doing are in three folds; One, we are standardising our hotel business and services in the state. Agreed that if you want to build a hotel, t it is a private thing, you want to invest in hospitality business, but we have a standard that you must be able to meet before it can be approved. Even when you have done with your construction, your services are also under the scrutiny of the state, so with this, we will be able to know that in as much as we have a business operating in the state, there are standard rules you must follow in attending to guests, in securing the lives and property of the guests in your hotel and also in terms of culinary services provided, we are working round this.
The state is trying to develop tourist sites but the urban renewal programme is ongoing. It seems some of these tourist sites will have to go. What are you doing about this?
Well, it is a big concern to every stakeholder in the tourism industry but we are discussing with ministry of Lands, Physical and Urban Planning, also the office of Mr. Governor, on how to preserve all these our historical sites. We know their importance to the state, to our culture, to the nation at large and also to the Yoruba community throughout the world, so we will find a way around it but there has to be a common consensus with all the stakeholders.
People have argued that except for the Osun festival that pulls crowd to the state,  there are no other tourist attractions to justify the huge of money that is going into it?
Well, whosoever says culture and festivals are a waste, then that person must not be a real Yoruba man. First, apart from the fact that we are celebrating, we know what our festivals entail. It exposes our culture and tradition to the outside world. Today Yoruba culture and tradition are already going into oblivion. Every household today prefers western ideas to our tradition, every family wants itself to be prided as the best westernised family but that is not our culture or tradition.
Yoruba culture teaches us a lot in terms of our tradition, in terms of our relationship with one another, with government, with authorities, also our culture teaches about integrity or what you call 'Omoluabi' ethos because it directs our way of dressing, stepping, eating and even talking wherever you find yourself. So, those are the issues culture has to do with.
Statistically, Yorubas across the world are close to 100million and some of them are already losing the tribe, they are having nostalgic feelings of coming back home to their roots. If they don't have the opportunity,  even if they don't witness it firsthand by attending, they have access to all these festivals they would know, that they have their roots and they have tradition.
Investments do not yield in a day, it is a gradual development. I would tell you that the kind of patronage we had in osogbo during 2011 Osun Osogbo festival was not what we had in 2012 it was not what we had in 2013, so what we are looking at is not immediate gain but a future development that will help the state financially; one that will create wealth, banish poverty and create employment opportunities for our youths.
excerpts from 
THE NATION