Festus Iyayi: The Ink Dries Out For The Hero Of Our Struggles – Aregbesola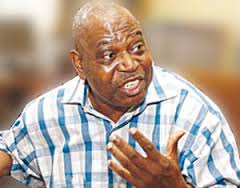 The Governor of the State of Osun, Ogbeni Rauf Aregbesola, on Wednesday saluted the courage with which the late former President of the Academic Staff Union of Universities, Prof. Festus Iyayi confronted forces of under-development in his contribution towards the growth of Nigeria.
Aregbesola said the sudden and tragic death of Iyayi made a sad statement on how quality lives are wasted under very avoidable circumstances of bad roads and other infrastructure decay in Nigeria.
Describing the death as a sad loss to the academic world and the nation, Aregbesola, in statement signed by the Director, Bureau of Communications and Strategy, Mr. Semiu Okanlawon, said Iyayi's death has not only robbed the academic world of an intellectual of uncommon repute, it has depleted the ranks of truly committed agitators for common good in Nigeria.
The Governor stated, "The Iyayis of Nigeria are the true heroes deserving of celebration for they devoted their lives to the good of society and humanity.
"It should be noted that Iyayi was President of the ASUU at one of the most trying times of our history as a nation when forces of democratic good battled fearlessly against the forces of retrogression. He did not die then but suffered many deprivations and abuses."
Aregbesola said Iyayi's creative works such as The Heroes, Violence, The Contract and others were celebrated works which enriched his profile as an activist of the finest breed.
"But he did not just theorise as a human rights crusader. He was all over the places campaigning for a sane society. That his death came while in the middle of heated negotiations to resolve the Federal Government-ASUU logjam is a testimony to the doggedness of this indefatigable activist," He added
"On behalf of myself and the people of the State of Osun, I offer our condolences to the entire families, immediate and extended, of one of our finest, Festus Iyayi.
I sympathise with Nigerian teachers on whose struggle for a better education sector Iyayi has died.
"We pray that Almighty God repose his soul in paradise." Aregbesola said.