GOVERNANCE: Alaafin Canvasses For Osun Governor's Second Term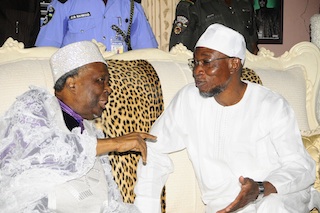 Alaafin of Oyo, Oba Lamidi Olayiwola Adeyemi, has canvassed for a second term in office for the Governor of the State of Osun, Ogbeni Rauf Adesoji Aregbesola, just as he sought for Yoruba cultural re-awakening.
Addressing members of 'Oyopeju', which is an acronym for 18 compounds in Osogbo town that migrated from Oyo in the historical past, who turned out Saturday in their thousands to welcome him at Freedom Park, Railway Station, Osogbo, Adeyemi said: "I am planning to call a meeting of all the Yoruba royal fathers and speak on the giant strive of Governor Aregbesola, which has completely transformed Osun State. A good orange should be taken more than once."
The monarch called for continuous support and cooperation of all monarchs and subjects for Aregbesola's administration.
He challenged critics of his (Aregbesola) administration to proffer alternatives towards provision of free uniforms and electronic learning device called 'Opon Imo' (tablet of knowledge), which are ingredients of education reform policy.
On cultural re-awakening, the monarch said:
"In Yoruba land, royalty cannot go into extinction. "The Yoruba that is widely spoken today is of Oyo stock, which Rev Samuel Johnson documented in1882. It was Oyo that started the cabinet system, which the Europeans later copied and developed."
However, President of Oyopeju, Alhaji Ajadi Badmus, welcomed Aregbesola, who was by represented by his wife, Alhaja Serifat, the deputy governor, Chief (Mrs) Grace Titilayo Laoye-Tomori, Oba Adeyemi, Ataoja of Osogbo, Oba Jimoh Olanipekun and other prominent traditional rulers present.
Badmus narrated the historical migration of Oyo descents to Osogbo as traders and merchants until their absorption and integration into the society, promising to revive all innate abilities of Oyo descents towards re-awakening cultural glorious past for future greatness.
Laoye-Tomori was full of gratitude to all that were present as one of the highlights of the event was wearing of 'sanyan' type of 'aso oke' by almost everybody present including her and the first lady.