Pig Farming Business In Osun, Another Opportunity For Job And Wealth Creation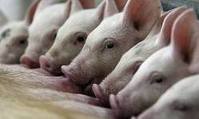 The Government of the State of Osun has said it will do everything possible to support farmers to ensure abundant food production in the state.
Dele Ogundipe, the Senior Special Assistant to the Governor on Quick Impact Intervention Programme (QIIP), said this on Saturday in Osogbo.
He said the government would continue to support the Piggery Farmers' Association to ensure abundant meat production. He also urged pig farmers to support the state government's vision toward improved food production to reap more gains.
According to him, the support would enable the farmers to enjoy QIIP loans through the Ministry of Agriculture and Food Security.
"Pig farming business should not be handled with levity, rather, it should be handled with utmost interest for the desired abundant profit and the benefits embedded in the business to be achieved," he said. "I, therefore, want to advise farmers to brace up toward the progress of pig farming business in Osun State as Governor Rauf Aregbesola is ready to support them for the benefit of the citizenry.''
Ogundipe revealed that the state government had started Artificial Insemination (AI) of female pigs in the three senatorial districts of the state, saying the government spent huge amount of money on the exercise.
He advised pig farmers not to see the business as a way of boosting food production only, but as a job and wealth creation venture.
BUSINESS NEWS