Aregbesola And The Political Economy Of Religion – PUNCH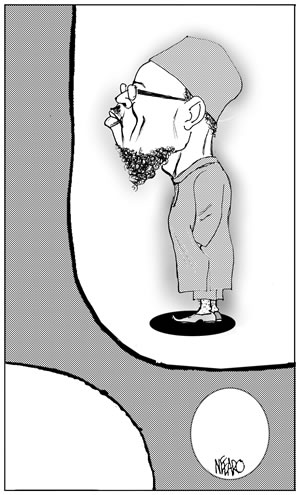 I use the concept of political economy specifically with reference to Osun State Governor, Rauf Aregbesola's political, economic, and educational policies, their interrelations, and their influence on social institutions in the state. One such social institution, which his policies have impacted significantly, is the complex of worship centres we have come to label as religious institution.
Osun State happens to have an interesting religious identity. Much more than many other states in the federation, it provides an interesting confluence of Muslim, Christian, and Traditional religion, each with a deep history and core followers. Just as there are age-old mosques and churches in the state, so are there traditional religious centres, especially at Ile-Ife and Osogbo.
The Osun Sacred Grove in Osogbo is a site of traditional worship, hosting up to 40 shrines. The site is now a vestige of the traditional sacred groves which once dotted Yoruba forests around settlement centres. Today, the Osun-Osogbo Sacred Grove has become a major tourist centre, attracting tourists from all over the world. What is more, it has been designated a World Heritage Site by UNESCO in recognition of the significance of its cultural content. A former Governor of Osun State, Olagunsoye Oyinlola, himself a Yoruba Prince, capitalised on the cultural contribution of Osun State to the Yoruba nation by hosting annual Yoruba conferences. Aregbesola even went further last year by hosting a global pan-Yoruba conference aimed at forging Yoruba integration across the globe.
But, perhaps the most unique modern religious feature of Osun State today is the impressive list of leading evangelists of the Christian faith, who hail or hailed from the state. They include Pastor Enoch Adeboye (the Redeemed Christian Church of God); Pastor William Kumuyi (Deeper Life); Pastor D.K. Olukoya (Mountain of Fire and Miracles); Prophet Ayo Babalola (Founder, Christ Apostolic Church; Prophet Kayode Abiara (CAC); Prophet Timothy Obadare (CAC); Prophet Gabriel Fakeye, Cherubim and Seraphim Church Movement; Prophet Abiodun Bada (Celestial Church of Christ); and Pastor Matthew Ashimolowo (Kingsway Bible Church). What is remarkable about these church leaders is that most of them were born or raised within 50 kilometres of Ilesa in Osun State.
Fully aware of this fact, Aregbesola began to approach these church leaders to bring their evangelism back home. For example, in December 2010, at the launching of a N50m endowment fund for Ilesha Grammar School, my alma mater, Aregbesola openly appealed for Adeboye's patronage of a 200,000 worshipers' Christian Convention Centre to be built in Osun State.The bottom line here is that the gestation period of the project predates recent religious controversies in the state.
For nearly three years, Aregbesola has also been looking for appropriate land space large enough to house such a centre. He eventually found a large expanse of land in Odo Iju and Ibodi in the Atakumosa West Local Government Area of the state, willingly donated by the community leaders in honour of the church leaders who hailed from the environs of the land and in anticipation of the project's economic benefits. Aregbesola, however, still went ahead to compensate the land owners to avert future ownership claims.
It is quite clear that Aregbesola was driven largely by the economic advantage of bringing thousands of worshippers to his state for mass Christian worship as happens in Ogun State every week. There's no denying the fact that religion in Nigeria is also an economic activity. This is particularly true of evangelical churches, whose activities contribute significantly to the economic development of adjoining communities, even as their pastors live large.
Similarly, the intersection between politics and religion cannot be overlooked in this country. Religion is one of the key identities used in selecting candidates for office, especially at the Federal level. Besides, the Federal Government has built churches and mosques, and, like state governments, it continues to fund pilgrimages to Mecca and Jerusalem. The separation of state and religion may be the law of the land but it has never been so in practice.
These developments notwithstanding, Aregbesola should have avoided yet another controversy by going about the church project differently. Having provided an enabling environment for the project, namely, an appropriate land space and the cooperation of leading church leaders, he should have sought interested developers or private partners for the project, in order to minimise the capital outlay from state coffers.
The problem with Aregbesola, though, is that he does not do things in half measures. As a result, he sometimes allows his ideas to run ahead of himself. Or, how does one explain his involvement in yet another perceived controversial venture six months or so to an election? The paradox of such an involvement, though, is that it may well be an indication of genuineness of purpose: It is a good economic venture; let me pursue it, no matter whose ox is gored.
There are two serious problems with such a position. First, it accentuates the readiness with which critics read religion into otherwise well-intentioned political, economic, and educational policies. Second, it is not always politically expedient to be involved in controversial ventures, even if they are ultimately for the public good. Politics is not only about doing the right thing. It is also about doing what is perceived to be right.
These observations are further complicated by Aregbesola's Muslim identity, which has often been read into his policies, including school reclassification and mergers. So much mileage was covered on the school merger controversy that the intended advantages of the new educational policy were submerged. This puts a major burden on reporters to always look beyond the controversies surrounding well-intended projects and not allow their reports to merge with those of the opposition.
PUNCH