Ekiti/Osun: CSOs Score INEC Low On Voter Card's Distribution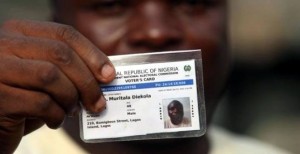 Civil Society Organisations have expressed concern over the poor distribution of Permanent Voter Cards by the Independent National Electoral Commission in Osun and Ekiti states ahead of the forthcoming governorship elections in both states.
The CSOs in a statement on their preliminary observations after monitoring the ongoing distribution of PVCs, under the 'Thumb it Right' campaign said, "There was no distribution of the PVCs in Ward 4, Polling Unit 7 LEA Primary school, Gbobamu/Ilolu in Irepodun LGA of Osun state."
They therefore called on INEC to "properly investigate this incident and take appropriate measures to ensure that eligible voters are not disenfranchised."
The observations was conducted with the support of the Democratic Governance for Development Program of the United Nations Development Program.
The statement obtained by journalists on Saturday in Abuja was signed by Head, Research, Policy and Advocacy in Youth Initiative for Advocacy, Growth and Advancement, Mr. Samson Itodo; Chairman, Partners for Electoral Reform, Mr. Ezenwa Nwagwu; Deputy National Coordinator of Youth Alliance on Constitution and Electoral Reform, Mr. Bukhari Mohammed Bello Jega, amongs others.
"We call on political parties to caution their members and agents to desist from making attempts to disrupt the distribution process. We also call on INEC to provide reliable hotlines for reporting incidents at the local government level for the purposes of providing prompt institutional responses to challenges arising from the exercise," the observers said.
The CSOs said that although INEC was making efforts to improve on its ability and capacity to manage elections, the process was however "still fraught with some challenges and inconsistencies" ranging from poor logistics, insufficient distribution officers and non-conformity with permanent voter card distribution guidelines.
 PUNCH